This story about a 'cursed' root filled with worms will make your skin crawl
A woman took to Twitter to recount a truly horrifying ordeal.
Twitter user @keplyq horrified fellow users when she recounted a story of how a "cursed" root infested her car with worms.
The story has proved popular, with more than 4,700 retweets and plenty of curious commenters – but it is a rollercoaster of emotions, from fascination to terror.
Read the story for yourself, but be warned: creepy worms ahead!
She kicked off the story by introducing Twitter to a "mysterious cursed root" which appeared on her front doorstep.
anyway, do you guys want to hear a story: two weeks ago a mysterious cursed root appeared on my front doorstep. it was the length of my forearm and shaped like a fucked up turkey leg. look here it is pic.twitter.com/yqZsdUw6yM

— kep (@keplyq) May 1, 2018
And was instantly confused as to what it was…
It took me about 8 seconds to become completely obsessed with it. I mean. What the fuck IS it?? Animal? Vegetable? Mineral? Alien womb? Why is it full of all those sticks??? Is it a curse? A blessing? I mean. duh. I knew it was a curse

— kep (@keplyq) May 1, 2018
I picked it up, shook it, banged it against the step a bit. Nothing jiggled, nothing hissed, but it was oddly....squishy. And maybe warm, somehow? I asked my neighbors. Nobody knew. I sent friends pictures. Nothing.

— kep (@keplyq) May 1, 2018
So she took it to work, where it began to behave strangely.
I put it in a gallon freezer bag and took it to work. I asked my bosses, my coworkers, my patients. Nobody had any idea what it was. By the end of the day, though, we noticed that the bag was...sweating. The turkey leg was emitting heat and moisture

— kep (@keplyq) May 1, 2018
Then, in her car, it started releasing horrible worms…
That night, as I left work, I threw it in the back of my car (a hatchback) and....I...forgot about it. Skip forward maybe a week. I was driving my kids to the library. My son was in the backseat and he told me there was a worm back there??

— kep (@keplyq) May 1, 2018
the cursed turkey leg FUCKING HATCHED. and from its fucked up spongy depths emerged. just. hundreds of horrible, tiny, fucked up worms. Everywhere. squeezing into the backseat from my trunk. they had chewed through their bag.

— kep (@keplyq) May 1, 2018
She and her children called for help to save them from the worms.
We called my husband, the three of us hollering into speaker phone that we would NEVER get back into that car, we had NO idea what to do, and that it was his job to SAVE US. FROM THE WORMS.

— kep (@keplyq) May 1, 2018
and he did: he came to take my car to vacuum it out, and we drove his car home. he came home an hour later, all the worms safely locked inside the industrial vacuum at mikes car wash. but here's the thing:

— kep (@keplyq) May 1, 2018
But they didn't leave…
It's getting warmer out. The sun is shining, trapping the heat inside my car, effectively creating a greenhouse for whatever.....might be....living. in my car.

— kep (@keplyq) May 1, 2018
And have been haunting her ever since.
So now, on the warm days, before I can get in my car I have to inspect the entire back seat (they've not come up to the front?) and trunk for tiny worms, which I then squish with the worm squishing rock I now keep in my car for this purpose

— kep (@keplyq) May 1, 2018
This picture of one of the worms will haunt your dreams forever.
UPDATE I found a single solitary dead worm thing in the back of my car and I am. going to post a picture. I'm sorry pic.twitter.com/LsWfUVWfs0

— kep (@keplyq) May 1, 2018
You'll never look at these things the same way again.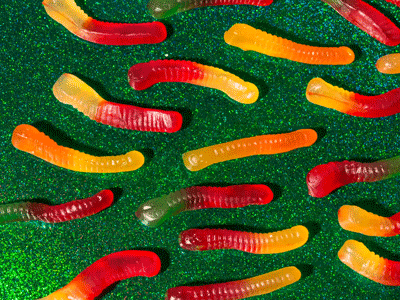 Press Association
Follow @Independent_ie