This inspiring Twitter thread will make you think twice about insulting the humble dung beetle
Science journalist Jennifer Harrison makes a compelling case for why this tiny-brained scarab beetle is worthy of your respect.
Who would have thought the humble dung beetle would become the subject of a heated Twitter conversation?
Yes, thanks to the internet, this tiny insect that "rolls poo" has become our latest hero.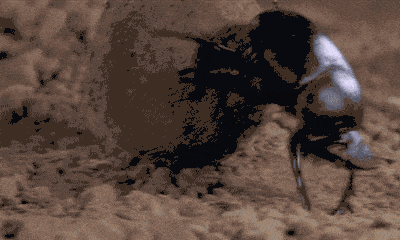 It all started when science journalist Jennifer Harrison tweeted to say she was told that the dung beetle isn't as amazing as other creatures that walk the planet.
So she decided to *roll up her sleeves* to defend the scarab beetle in an epic Twitter thread.
"It rolls poo". Yeah so lemme talk about that for a second. You can either roll poo, or you wait to ambush another beetle rolling poo

— Jennifer Harrison (@GeneticJen) August 14, 2017
But before you turn your nose up to this creature, Harrison wants you to know why this tiny-brained African beetle is worthy of your respect.
Fastest way to get somewhere? A straight line. So dung beetles push their ball in as straight line as possible. Simple, right?

— Jennifer Harrison (@GeneticJen) August 14, 2017
But of course, there's more to it. After all, how does this tiny insect to walk in a straight line?
Harrison cites early research from Dr Marie Dacke and her colleagues at Lund University in Sweden.
During the day they watch the sun and during the night they use polarised light from the moon. This was back in 2003. Good so far pic.twitter.com/eFBWlIGD8K

— Jennifer Harrison (@GeneticJen) August 14, 2017
Put a lid on top so it can't see the moon and now it takes 2 mins on average to hit a wall because they can't keep a straight line

— Jennifer Harrison (@GeneticJen) August 14, 2017
While the moon may have been the subject of the initial studies, Dr Dacke found something even more surprising when she and her team did further research.
40 seconds with moonless night sky rather than expected 2 minutes. Was she wrong? Is it not really about the moon? So she studied further

— Jennifer Harrison (@GeneticJen) August 14, 2017
She did things like turn only the brightest stars on, or only dimmer ones, and all sorts of weird experiments to see what the beetle did

— Jennifer Harrison (@GeneticJen) August 14, 2017
Dung beetles might be lowly, smelly, poo-pushers but hey they're the only insect we know that observes our galaxy and I think that's cool

— Jennifer Harrison (@GeneticJen) August 14, 2017
In 2013, the team published a study in Current Biology that the beetles actually used something else for navigation – the Milky Way.
"Even on clear, moonless nights, many dung beetles still manage to orientate along straight paths," Dr Dacke said.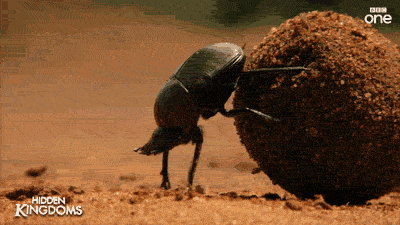 "This led us to suspect that the beetles exploit the starry sky for orientation – a feat that had, to our knowledge, never before been demonstrated in an insect."
Now the internet is feeling suitable humbled.
You just made balls of shit interesting (to me). Woah.

— killerspaz (@killerspaz) August 15, 2017
Great. Poo grubs are literally absolutely better and more capable than me https://t.co/RSweN11FMz

— ✌️✊𝕁𝕒𝕞𝕖𝕤 ℂ𝕚𝕤𝕙𝕖𝕥𝕗𝕚𝕖𝕝𝕕✌️✊ (@fancylettuce) August 15, 2017
Dung Beatles making me feel like trash since 2003

— Best Thom (@ThomFrench) August 15, 2017
this week's absolute tip-top thread on the wonder of dung beetles. https://t.co/216DrGpdeh

— mark haddon (@mark_haddon) August 14, 2017
"We are all in the gutter, but some of us are looking at the stars". Oscar Wilde

— Dan Talmon (@dan_talmon) August 15, 2017
Someone even wrote a joke to mark the occasion.
Great thread! I'll tell you my dung beetle joke.
A dung beetle goes into a bar.
He doesn't order a drink.
He just takes a stool.

— Thrifty Amoeba (@thriftyamoeba) August 14, 2017
Let's face it, you'll never look at a dung beetle the same way again.
You can read the full Twitter thread here.
Press Association
Follow @Independent_ie