This guy had a very clever way of avoiding Ryanair's new luggage charges
Could he BE wearing any more clothes?
One Ryanair customer took matters into his own hands in hilarious fashion after the airline changed its hand luggage rules for the second time this year.
From November 1 the Dublin-based airline introduced charges for passengers flying with a small suitcase, saying the measure is necessary to reduce delays.
And while customer Lee Cimino told the Press Association: "I love Ryanair," he also added: "It's just this new charge is a bit too far really."
Lee was flying to Belfast with Ryanair for a birthday night out with a friend, and it was on this journey he decided to perform his own minor protest.
This is for you if you've ever been frustrated by Ryanair. This is how you get around the new baggage charges every time. It might even make you smile :D

Posted by Lee Cimino on Sunday, November 4, 2018
"I fly with them a lot and they're always great, it's just a bit annoying," said Lee of the charge. "I just thought: 'I wonder if there's anything I can do to get around it?'
"I found an old coat and took it to a tailors in Tunstall, Stoke-on-Trent called Sew Wot? They were brilliant. They came up with most of the ideas. They must have thought: 'What on Earth is this all about?!' but they did an amazing job."
With the coat prepared and the idea in place, Manchester Airport was the location of Lee's stunt. But was there ever a moment the plan looked doomed to fail?
"We got to Manchester Airport at about 6am and I didn't get as many funny looks as I thought I would," said Lee. "My mate said I just looked like a hipster!
"The coat only had a few clothes in it and I just put it in the tray like you normally would. I don't know how close I came but as I understand it, I'm not doing anything wrong with wearing the coat."
Airport charges are a common source of irritation for tourists, so how has his video been received?
"The reaction has been good," Lee said. "Some people think I'm tight but it's not about that. I think it strikes a chord with people as everyone has had an experience with the airlines.
"I'd encourage more people to try it, otherwise how far will they go? As I say, this is not me having a go at Ryanair. I love them, it's just raising a point."
Lee also told the Press Association he is considering auctioning the coat to raise money for charity, offering to give an amount to a charity of Ryanair's choice.
In response, Ryanair told the Press Association: "Thanks to our larger free small bag allowance (40% bigger) and cheaper checked-in bag option (£8 for a 10kg bag), Ryanair customers can bring all they need without having to board the aircraft looking like the Michelin Man or Joey from Friends.
"We've received lots of positive feedback from customers and airports across Europe on our new bag policy, which is leading to faster check-in, security and boarding, and improved punctuality."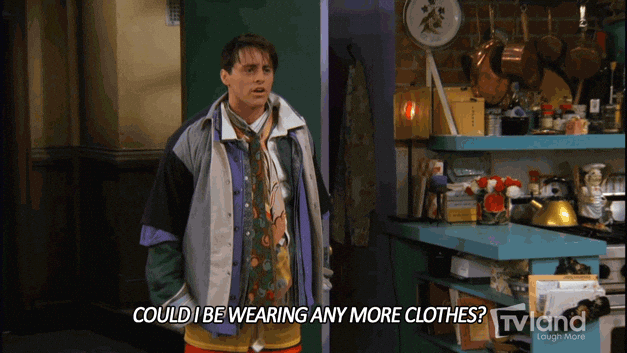 Is this the last over-sized coat Ryanair will have to deal with?
PA Media
Follow @Independent_ie