This dog is capable of Matrix-level stunts
Callie the Australian shepherd can get through gates like no other.
When The Matrix came out it had grown adults wishing they could be The One. Keanu Reeves just made it look so fun.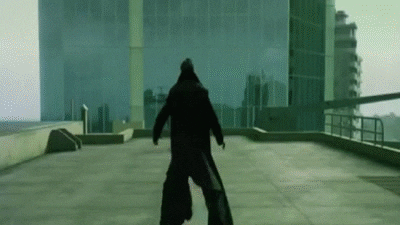 Now, 18 years later, an Australian shepherd has achieved the dream.
Callie holds the key to defeating our forthcoming robot overlords, if this video is anything to go by.
want to see my dog jump through gate pic.twitter.com/vlYtWPaB8x

— rudy mustang (@rudy_mustang) December 19, 2017
It turns out Callie is very good at barrel-rolls, and she does it all with a smile on her face.
But it's not just Neo that the dog is reminding people of.
Yo that was so clean, like Spiderman swinging through that bridge clean.. https://t.co/kS4j2soYZI

— Dean Albarkat (@DeanAlbarkat_) December 20, 2017
"Oh muh god... he on X-games mode"

— Alex, but online (@Alex_but_online) December 19, 2017
Barkour?

— bruce schmit (@bruceschmit) December 19, 2017
The performance has won her legions of fans.
15/10 good doggo, basically an Olympic gymnast

— a wild snark appears (@wokesnark) December 19, 2017
Awesome pup. https://t.co/BHTtnVxHP2

— amanda abbington (@CHIMPSINSOCKS) December 21, 2017
And really, Callie's exploits is just what everybody needed to see.
The best thing you'll see today!!! https://t.co/TR5NZbRXqw

— Jay Crawford (@JaycrawfordCLE) December 21, 2017
A PERFECT 10! https://t.co/AT8ZKqfo9D

— AndreaWBZ (@AndreaWBZ) December 21, 2017
Shes beauty, shes grace, shes miss united states https://t.co/tlfOjYJk8Q

— Ashley (@Bambiibb) December 20, 2017
Excellent doggo. Humanity's fate is in your hands.
Press Association
Follow @Independent_ie