This dad used Photoshop to make a unique first birthday picture of his son
He said he wanted to make something they could "treasure as a family for years to come".
A photographer surprised his wife by turning their son's first birthday photo shoot into an homage to their favourite cult film – Dumb And Dumber.
Derek Fahsbender, 36, turned his son Nolan Rio into Lloyd Christmas, the character played by Jim Carrey in the 1994 movie, complete with the infamous Mutts Cutts van in the background.
Derek, who lives in New York, decided to take his son's first birthday picture in a slightly different direction when his wife asked him to plan it.
"My wife has been telling me for months that I had to plan his one year picture," Derek told the Press Association.
"We had done a themed photo for each of his first 11 months, and as creative as the costumes were (all ideas chosen by my wife), they were simply just Nolan and his bear propped up on the couch, or against a plain wall."
Derek decided to on a Dumb and Dumber theme a month ago, because the classic, which spawned a sequel in 2014, is the couple's favourite, and according to Derek, "I'm the one who brings the humour to the marriage."
The film starring Jim Carrey and Jeff Daniels follows the adventures of two friends, one of whom works for a dog groomer and drives a furry dog-shaped truck.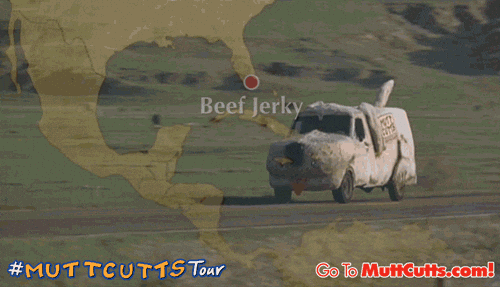 "It is hands-down our favourite movie, and I wanted this photo to be something to treasure as a family for years to come," Derek said.
So he got to work trying to find the famous suits the pair wear in the film after coming into some money.
"I searched for weeks to try to find the suits, but no one makes them small enough," he said.
He finally found the costumes in a size for older children, but put his one-year-old and the little boy's teddy bear in the outfits anyway, before doing a little Photoshopping. His wife Yessenia loved the results, and wants him to go back and Photoshop their son's first 11 months.
"I think she actually loves the movie even more than me, and this was the perfect end to his first year for her," Derek said.
Asked if he had plans for more themed pictures as Nolan gets older, Derek said he'd been making them up as he went along.
"I'm a pressure performer. My best ideas usually don't come out until my wife is yelling at me that the day is almost here."
Press Association
Follow @Independent_ie