These tweets will make you care about Earth Day
These tweets contain practical advice, pretty illustrations and may make you cry.
On the first ever Earth Day in 1970, millions of Americans took to the streets in their towns and cities to demand government action on pollution.
Twenty years on and the day is celebrated worldwide, encompassing a variety of environmental causes.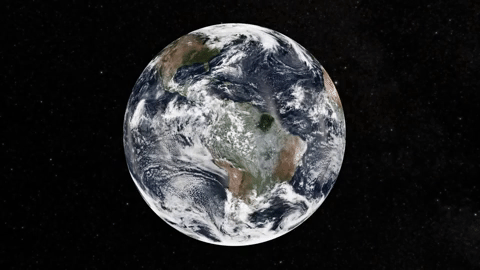 This year's theme is eliminating plastic pollution, but many topics were covered by those celebrating the day. Here are some of the best tweets.
Nasa tipped its hat to technology
Sunday is #EarthDay and we're celebrating by sharing many of the innovative technologies that help us better understand and protect our home planet. Join the celebration by creating your own shareable views of Earth, using the hashtag #NASA4Earth + more: https://t.co/0Pr2KdSTbq pic.twitter.com/GxI7kvsQpr

— NASA (@NASA) April 22, 2018
From drones analysing coral reefs to mosquito mapping, technological advancement play a big role in helping the agency keep a tab on what's happening to our planet.
Unicef shared a video of 12-year-old Timochi speaking at the UN Climate Change Conference in Bonn in 2017.
One word. Inspiring.#EarthDay pic.twitter.com/tEEwB9F2jE

— UNICEF (@UNICEF) April 22, 2018
Timochi described the destruction of his home and school on a Fijian Island following a cyclone in 2016 and the impact of the cyclone on the local environment.
"Speeches and talks will not solve the problem, but walking the talk is move effective," he said.
The UN organisation also launched a climate change comic to celebrate the day.
Happy #EarthDay, everyone! Join us in committing to protect our 🌏. To celebrate, @UNICEF just launched the TRE comic book from 21-year-old Sona Sridhar of India, who won their #ClimateComic contest.

Like these images? Check out the full comic here → https://t.co/z2bCwobgS4 pic.twitter.com/Cf06olOJV2

— Global Goals (@GlobalGoalsUN) April 22, 2018
The creators of Snoopy shared a cartoon featuring the pooch

The World Wildlife Fund had advice on how to choose paper products responsibly
Plastic consumption effects every living organism that depends on the ocean to live, including us. The good news is, each and every one of us has the power to help curb this. Say no to one-use plastic items (bags/straws/etc) & support laws in favor of regulating plastic #EarthDay pic.twitter.com/JsRNeAPXUU

— Joel Sartore (@joelsartore) April 22, 2018
He encouraged his followers to say no to one-use plastic items.
Footballer Pele echoed this sentiment, asking the same of his followers.
25 years ago, I was given an #EarthDay award. Today is Earth Day, so let's be kind to our planet! Reduce your use of plastic today. // Há 25 anos, eu recebi um prêmio #EarthDay. Hoje é Dia da Terra. Pense em um jeito de reduzir o seu uso de plásticos hoje. pic.twitter.com/sXV2oj7g83

— Pelé (@Pele) April 22, 2018
You can find out more about Earth Day here.
Press Association
Follow @Independent_ie