Someone actually handed the police a driving licence with Homer Simpson on it
The driver's car was seized and he was reported for driving with no insurance and driving without a proper licence.
A police force in Buckinghamshire has shared a hilarious photo of a driving licence they were handed following a traffic stop.
When Pc Phillips pulled over a car in Milton Keynes and asked the driver for ID, she was promptly handed a fake licence featuring the name and details of none other than cartoon character Homer Simpson.
The false license stated the user's name was Homer Simpson, date of birth as the August 4 1963 and address as 28 Springfield Way, USA and included a photo.
Fans of The Simpsons may recognise that neither the date of birth or the address are correct for the animated character. He was "born" on May 12 1956 and "lives" at 742 Evergreen Terrace.
However, the inaccuracies were probably the least of the driver's worries. According to a Facebook post shared by the force, "The driver's car was seized and he was reported for driving with no insurance and driving without a proper licence. D'oh!"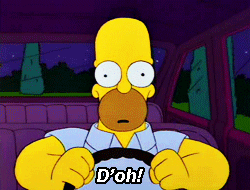 Press Association
Follow @Independent_ie