Oscars, scientific discoveries and more things Harry Kane has claimed, according to Twitter
The reaction to the Spurs striker's goal appeal continues.
Harry Kane's successful appeal to be awarded Tottenham's second goal from their Premier League game against Stoke has become football fans' hot topic.
Naturally much of the discussion is teasing in its nature, with many fans taking to Twitter to suggest the Spurs striker isn't stopping at taking a goal from teammate Christian Eriksen.
In a debatable order of significance, here are some more things he is allegedly laying claim to.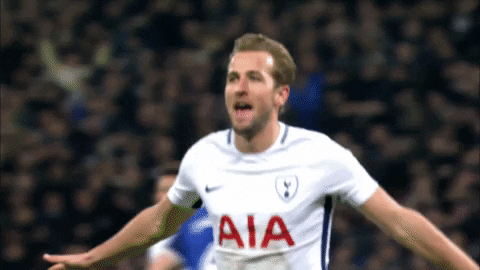 Mario Mandzukic's goal for Juventus
Mandzukic goal now being given to Harry Kane.

— Gary Lineker (@GaryLineker) April 11, 2018
In fact all the goals from their game against Real Madrid
I just asked Mo Salah if he saw the goal in the Real Madrid game. He said Which one? I said it doesn't matter which one, they were both scored by Harry Kane. It was so funny.

— Boring James Milner (@BoringMilner) April 11, 2018
Ronaldo's bicycle kick
This week's champions league is unreal. Harry Kane's bicycle kick just wiped off the board with Juve's goals.

— Alex Morgan (@alexmorgan13) April 11, 2018
All 1,283 of Pele's goals
Harry Kane is about to claim them https://t.co/mKcDzmpLHb

— Dean Coombes (@DeanCoombes) April 11, 2018
This Bake Off showstopper
We're awarding this showstopper to Harry Kane. Apparently he's been near a tent once. That's enough evidence. pic.twitter.com/Q9wO55eacR

— British Bake Off (@BritishBakeOff) April 11, 2018
An Oscar
The #PL's Goal Accreditation Appeals Panel has awarded @HKane with an Oscar for best picture. pic.twitter.com/JVVx8KvVn3

— Kristian (@vonstrenginho) April 11, 2018
This guy's child
Harry Kane just claimed my first child.

— Lee Nelson ON TOUR 🎤 (@RealLeeNelson) April 11, 2018
The Moon landing
Oh my word. Harry Kane is really losing it now 😯 pic.twitter.com/4G6HsuxZw5

— Rob Ross (@gooner145) April 11, 2018
Discovering penicillin
Harry Kane has rightly and finally been recognised as discovering penicillin. Congratulations Harry.

— Justin Moorhouse (@justinmoorhouse) April 11, 2018
Christian Eriksen's Fifa team of the week card
BREAKING: Tottenham Hotspur have made an appeal to @EASPORTSFIFA for Eriksens TOTW card to be removed and awarded to Harry Kane https://t.co/BZTjRHeyyJ

— Liam (@OfficialVizeh) April 11, 2018
You can't do that to someone on Fifa Ultimate Team.
Press Association
Follow @Independent_ie