Lots of people are getting excited about Christmas now that Halloween is over
It's November 1, which means people on Twitter are already feeling festive.
Now Halloween is over, social media users are already fully embracing Christmas, whether some people think it's too early or not.
From people donning Santa hats to those hating on Christmas music, there's a very mixed bag of opinions.
Here are the best memes, jokes, and complaints people had about the coming festive season. Do you think it's far too soon to be celebrating Christmas?
People changed their aesthetic very quickly…
October 31 vs November 1 pic.twitter.com/j5O1bFvZDP

— Ash conti (@ashley__2__) October 31, 2018
Some were hailing November as the 'quiet' month.
Officially in the quiet period between "pumpkin spice latte!" and "Die Hard is the best Christmas movie!!" tweets. Enjoy it while it lasts

— Ryan 🔜 Wetherspoons (@NoMagRyan) November 1, 2018
Some social media users think it's far too early to be celebrating…
Just seen the first Christmas advert for 2018... NO THANK YOU pic.twitter.com/vnXZv1KJzv

— Kim Possible but make it emo. (@theprettygeesus) November 1, 2018
But for others there's a big difference between October 31 and November 1.
October 31 vs November 1 pic.twitter.com/IpVuvDlKiF

— Princess Sommer👑✨ (@RealLifeSnow) October 30, 2018
Certain people were extremely excited on the morning of November 1.
Nov. 1st, finally appropriate to go full out CHRISTMAS TIME🎅🏻🤶🏻🧤🧣🎄☃️❄️🎁 pic.twitter.com/quSV1IDJGw

— 𓆉 🌻Boo Blake🌻 𓆉 (@ToriBooBlake) November 1, 2018
It seems more people are happy than not.
Me listening for the first music channel to play a Christmas tune pic.twitter.com/3HtC2cNbZK

— Gabrielle 👑 (@Gabriellepopps) November 1, 2018
In fact, some are very passionate about the festive season.
YOU DON'T NEED PEOPLE IN YOUR LIFE WHO THINK IT'S TOO EARLY FOR CHRISTMAS MUSIC

— Jack Mull (@J4CKMULL) November 1, 2018
In general, there's a sense of confusion in the air.
Merry November! Everything is Christmas now. Why? No one really knows. Where? Everywhere. In two weeks supermarkets will stock Easter eggs and soon our sense of time will collapse.

— Dave (@davechannel) November 1, 2018
This tweet got a lot of likes…
But whatever your opinion, you should follow this great advice.
Shout out to all the Pams sending their Christmas cards this morning xoxo pic.twitter.com/4Sg15ikchX

— BBC Three (@bbcthree) November 1, 2018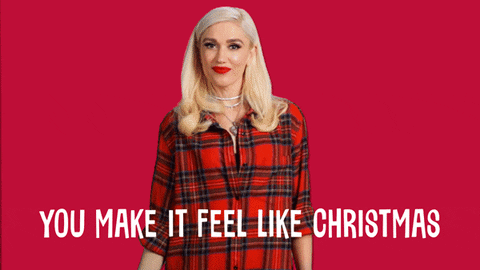 PA Media
Follow @Independent_ie