Just 11 of the funniest tweets about VAR at the 2018 World Cup
Is it working or is it awful? It doesn't matter as long as you're laughing.
The Video Assistant Referee system has divided opinion like nothing else at this World Cup, so it's about time everyone relaxed and had a good laugh about it instead.
Iran 1-1 Portugal and Spain 2-2 Morocco were the latest games to be affected by VAR drama, but don't worry about that. It's time to strap yourself in and enjoy the funnier side of the technology.
1. What else does the VAR booth offer?
If anyone was wondering why #VAR was taking so long last night...#WorldCup #ArcadesAreComing pic.twitter.com/M3joFMZYXF

— Lane7 (@Lane7_) June 26, 2018
2. Not every incident appears to have been picked up by those in charge…
#var pic.twitter.com/Srqsv9jBrA

— Dan Leydon 🎨 (@danleydon) June 16, 2018
3. Football Manager can be hard to tear yourself away from.
No wonder we've seen so much VAR usage... pic.twitter.com/PVkHLE2HS9

— Football Manager (@FootballManager) June 19, 2018
4. Meanwhile Fortnite can be equally addictive.
5. No harm in a little break to go on the pub quiz machine. It's definitely Lee Sharp.
Lee sharp. It's Lee Sharp. Definitely Lee Sharp pic.twitter.com/ZhIEfa7QUL

— Jamie🇬🇧 (@1690Jamie) June 19, 2018
6. Just a quick update for you, ref…
They're having a nightmare with VAR! pic.twitter.com/W7GWDbzd07

— Football Stands (@TheFootyStands) June 25, 2018
7. Is VAR having a positive effect? Let's go to VAR to find out.
Referees this #WorldCup : Use your head. Don't panic

Inner Ref: Go to VAR and make the game a shambles pic.twitter.com/3C2l7X35RK

— ShotOnGoal (@shotongoal247) June 25, 2018
8. Will you have that penalty to eat in or take away, sir?
Big Mac Meal
Coke
Carrot sticks
*delete*
Fries pic.twitter.com/XWkxqwZ10r

— MGritton (@MGritton) June 16, 2018
9. Any chance of a review on that recoupling?
What are the lads in the VAR room doing now the football is over? pic.twitter.com/mTo53SImzz

— Paddy Power (@paddypower) June 20, 2018
10. Dive or no dive?
Do we need VAR to check if this is a dive or not? #WorldCup 🤣 pic.twitter.com/kMD513RA7h

— Christian Benteke (@chrisbenteke) June 20, 2018
11. It's gone to the officials…
VAR say it was a dive! #WorldCup 🤣 pic.twitter.com/j88fCB94X5

— Christian Benteke (@chrisbenteke) June 20, 2018
… he's given it!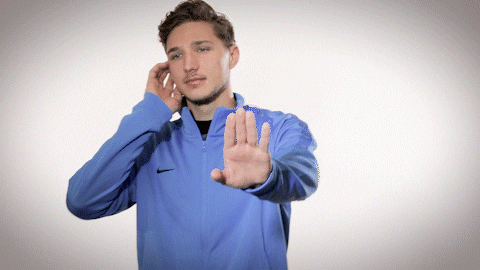 PA Media
Follow @Independent_ie