It started snowing in London and people had the most British responses possible
"Had eight flakes of snow so I'm off to Tesco to buy 52 loaves of bread and 94 pints of milk."
Snow has started to fall across London, with low temperatures of -3C affecting the capital and snowy spells expected to hit throughout the week.
The cold air and snow has been nicknamed The Beast From The East, with poor weather conditions affecting public transport in London and the south east.
The Met office has issued a Yellow warning for snow on Tuesday, covering most of the London area.
People responded to the weather in the most British way possible. First, people were worrying about the trains…
Update report on snow in London: it's stopped, minimal ground coverage, all trains are cancelled

— B🌻 (@BethanRadford) February 26, 2018
Then wondering how they'll ever get to work on time…
Exactly 1mm of snow has fallen in London, so I therefore fully expect trains to be cancelled, gridlocked traffic and just general panic #uksnow

— dan sheed (@_DanSheed) February 26, 2018
That "Keep Calm" thing is really real in London... unless one flake of snow hits the ground then the entire staff of Heathrow retreats to underground bunkers and everyone forgets how to drive.

— THE BLACK MADONNA (@blackmadonnachi) February 26, 2018
Going to the supermarkets to stock up on food…
Had 8 flakes of snow so I'm off to Tesco to buy 52 loaves of bread and 94 pints of milk.

— Amanda (@Pandamoanimum) February 26, 2018
I'm in Tesco to stock up on food before the snow hits but mass panic has set in.
The deli's on fire, a man's been stabbed in the neck with a carrot for a Peperami.
A tea bag costs £600.
Mutant hillbillies control the checkouts.
A bear is eating an OAP.
Paper is now a food group

— joe heenan (@joeheenan) February 26, 2018
Before descending into full-blown apocalyptic panic.
It is snowing in London. No other weather is important. Ubers are now just a staffie with a sled attached. Gangs of rogue snowmen roam self imposed 'snow go zones'. The new currency is warmth. Help us.

— TechnicallyRon (@TechnicallyRon) February 26, 2018
It's not all doom and gloom, though! Every person you know will have posted gorgeous photos for you to flick through.
Forecasting the weather across the UK, The Met Office said: "Snow is in the forecast all week with accumulations of up to 20cm possible.
"A spell of persistent snow moving southwestwards across parts of the UK on Tuesday. Sunny spells and heavy snow showers elsewhere. It will feel bitterly cold in the wind.
"Widespread snow showers Wednesday… Possibly some disruptive snowfall across the south Thursday into Friday."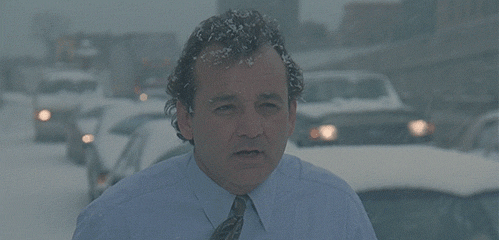 PA Media
Follow @Independent_ie