Don't have nightmares: People share the creepiest things kids have said to them
These tales make the boy from The Sixth Sense look normal.
When writer Mikki Kendall asked her followers for stories about the weirdest things kids had ever said to them, she probably didn't expect to get such odd, and in some cases, supernatural responses.
From kids pointing to invisible people in graveyards, to the child in nursery who could tell her teacher was pregnant, these were the creepiest tales people shared.
People who interact with kids, what is the single weirdest/creepiest thing a kid has ever said to you? It's Saturday night so why not creep yourself out? pic.twitter.com/6pK92nOkmG

— ❄Mikki Kendall❄ (@Karnythia) January 28, 2018
Quite a few stories were on the supernatural side.
When my daughter was 2 I found her under the table with one of my husband's old children's books, turning pages as if she were being read to. I asked her what she was doing. She said "reading with Grandma" my husband's mother died two years before she was born. It was her book.

— Michelle B. Young (@MichelleBYoung1) January 28, 2018
This next one is extremely creepy.
Walking with my 2-yo in a cemetery by our house. She says "mommy, who is that man in the red jacket by the stone house?" She pointed to a mausoleum. There was no one else in the cemetery. "He's waving at me!" She waved back. "He's coming over to talk!"

— Kate, But the Tired Version (@Ardeospina) January 28, 2018
What is it with kids and seeing ghosts?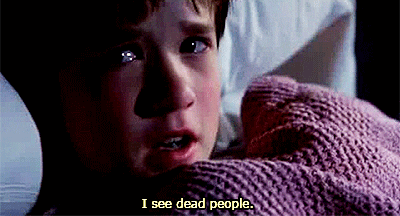 Others stories made pretty convincing arguments for the existence of past lives.
Woke up in the dead of night, in total darkness. Thought someone had called for me, but all was quiet. Didn't notice that my 3 yr old had crept in and was standing directly beside my bed until he whispered into my ear "I used to have a train-set when I was a grandpa." 😳 🚂 👻

— Jen Britton (@jenniferbritton) January 28, 2018
My daughter was about 5 when she says you're the best mommy I ever had. I said I'm the only mommy you've ever had. She looks at me and says no your the 3rd one but I like you the best😳

— NosugarNocream (@daahlingnikki) January 28, 2018
A handful of experiences were about kids threatening to harm their parents, albeit while smiling sweetly.
A friend jokingly says of her 4 y/o daughter in the other room: "Imma wake up to that one tryna kill me in my sleep"

Daughter comes over, mature concern on her face: "Mommy why would you say that?"
"Oh no hunny I was just jo---"
"You wouldn't feel a thing. it would be so fast"

— BlackQueerSeer (@Turhan3rd) January 28, 2018
I woke up to 3 yo kid #4 petting my head. I asked what she needed and she said 'i wish i had a piece of you that i could carry with me all the time. like your finger.' Haven't slept soundly since.

— marie bourgeois (@mmbtox) January 28, 2018
My son, at five years old:

"Daddy, I'm gonna eat you up."
"Awwww...."
"Yeah, I'm gonna cut you into little pieces."
"...."

— Kevin M. Kruse (@KevinMKruse) January 28, 2018
Okay, but what about the child who could tell when her teacher was pregnant, despite the fact that she wasn't showing?
I was was watching a prek class while the teacher was out and this little girl walked up to my belly pointed and said "There's a little tiny baby in there. There's a little baby right there." I was pregnant but hadn't told my job.

— Noonie Kat (@KitaMargarita) January 28, 2018
Some stories were about kids just being downright creepy in general.
I was hiking alone in the woods with my son who was 7. It was eerie quiet. Out of nowhere he says "The woods demand a sacrifice."

— YOUNG MT (@MXTracy66) January 28, 2018
Is it possible to be frightened of a seven-year-old?
When my niece was 7, she asked us why we were keeping all the dead grandmas in the attic.

Then she laughed.

— Mean Fat Girl 🏳️‍🌈💄 (@Artists_Ali) January 28, 2018
Seven seemed to be a particularly creepy age.
This set of twins knew exactly what to say to freak out their mother.
My twins in unison: we see everything you do... everything 👀

Me: oh... ok pic.twitter.com/jNsFoSUJPY

— Tanya ✨ (@TEE1031) January 28, 2018
This child seemed to something about her mother that her mother didn't.
Walked in on my lass turning all of her stuffed animals around. Wyd?
P: I just can't sleep with all these eyes watching me. I don't know how you do it... pic.twitter.com/Nepkufw3qd

— talytr (@tltroup) January 28, 2018
Let's end with a more wholesome one, so you don't get nightmares.
Not creepy...kind of weird and beautiful. I taught a group of kids that included a little girl who was deaf and received an implant. She loved telling me all the new sounds she discovered. My favorite was that she thought cicadas were the sound the sun made until she saw one.

— Leslie J. Anderson (@inkhat) January 28, 2018
Maybe kids aren't all ghost-seeing, past life-having, murderous little terrors after all.
Press Association
Follow @Independent_ie