Donald Trump finally held his Fake News Awards but not everyone was impressed
There were delays, website crashes – and not a trophy in sight.
Donald Trump has been promising to stage his very own fake news awards for a little while now.
I will be announcing THE MOST DISHONEST & CORRUPT MEDIA AWARDS OF THE YEAR on Monday at 5:00 o'clock. Subjects will cover Dishonesty & Bad Reporting in various categories from the Fake News Media. Stay tuned!

— Donald J. Trump (@realDonaldTrump) January 3, 2018
The US president has been enthusiastic on Twitter about "the most dishonest and corrupt media awards of the year", which were downgraded to a "potential event" by White House press secretary Sarah Sanders, and then rescheduled.
The Fake News Awards, those going to the most corrupt & biased of the Mainstream Media, will be presented to the losers on Wednesday, January 17th, rather than this coming Monday. The interest in, and importance of, these awards is far greater than anyone could have anticipated!

— Donald J. Trump (@realDonaldTrump) January 7, 2018
But when the time finally came, there was no presenter, no ceremony and no trophies for the winners – just a static web page that immediately crashed after the president tweeted a link to it.
I think Trump broke the GOP website

"The site is temporarily offline, we are working to bring it back up. Please try back later."https://t.co/7H5fbwiKyK https://t.co/4QO61EGxLI

— Trevor Robb (@TrevorRobb_) January 18, 2018
Some people couldn't help but see the irony.
You know what kind of website would adequately prepare for a massive influx of traffic for a highly anticipated story so it doesn't crash?

A news website.

— Jack Jenkins (@jackmjenkins) January 18, 2018
Maybe Trump could've done with some technical help from the most dishonest and corrupt media themselves.
It reminded others of another infamous competition mistake.
LIVE FROM THE FAKE NEWS AWARDS: pic.twitter.com/IAfyxFQANU

— Eric Haywood (@EricHaywood) January 18, 2018
Once the Republican party-hosted page was back online, we saw the winners.
CNN came away with four "awards", an unsurprising result considering that last year Trump tweeted a GIF of himself beating up a man with the broadcaster's logo superimposed over his face.
Congrats to CNN on its 4 big Fake News awards! pic.twitter.com/KMfcbMaEu9

— Ben Shapiro (@benshapiro) January 18, 2018
The New York Times got two, and ABC, Time, the Washington Post and Newsweek all got mentions.
Here's the full list of Trump's #FakeNewsAwards

Archived link here: https://t.co/kvpeuQG9TZ pic.twitter.com/AHMlJmlVXU

— Anup Kaphle (@AnupKaphle) January 18, 2018
Some people were disappointed with the non-existent ceremony's compere.
Those awards were really a letdown. Gotta let Ricky Gervais host next year.

— Ben Shapiro (@benshapiro) January 18, 2018
Others were upset it wasn't televised.
Model Chrissy Teigen even mocked up a fake ceremony.
January 17, 2018
Some pointed out that the factual inaccuracies some of the "awards" referenced had been quickly clarified by the news organisations.
Worth nothing that most of the 11 recipients of the Fake News Awards issued corrections or faced consequences for inaccurate reporting. That's how journalism works.https://t.co/ZcLZ0pxd7i

— Mike Rosenberg (@ByRosenberg) January 18, 2018
Some were annoyed that Trump and the Republicans were giving so much time to a publicity stunt, rather than the imminent government shutdown.
Trump and the RNC focused on rolling out Fake News Awards instead of negotiating to avoid a shutdown.

Very cool, very presidential.

— Jon Favreau (@jonfavs) January 18, 2018
If the two major parties in Washington can't agree on a funding bill before the weekend, hundreds of thousands of federal employees will not be allowed to go to work.
But it's not all bad news for the press – the president did say there were some journalists he respects.
Despite some very corrupt and dishonest media coverage, there are many great reporters I respect and lots of GOOD NEWS for the American people to be proud of!

— Donald J. Trump (@realDonaldTrump) January 18, 2018
The Republicans just seemed to be chuffed that their site got so much attention.
Tonight, https://t.co/YTZAIJpNhb saw more traffic than ever before. Even though the servers were scaled up, the interest was even greater than anticipated. Traffic is off the charts. Come back soon.

— GOP (@GOP) January 18, 2018
Well, it wouldn't be awards season without a little bit of chaos.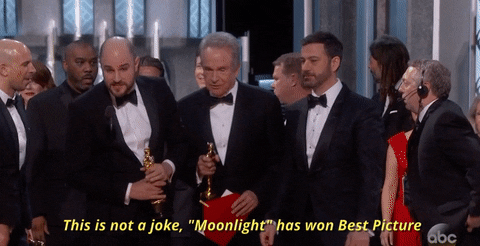 Press Association
Follow @Independent_ie