Check out this amazing giant egg which had a smaller egg hidden inside
'We have never seen an egg inside an egg before.'
An Australian farmer was shocked to discover an enormous egg, three times larger than usual, which had another egg hidden inside.
The egg was found on Stockman's Eggs farm in Queensland.
The company announced on Facebook that one of its free-range hens had laid a giant egg weighing 176g (6.2oz). The average egg weighs around 58g (2oz).
Even more surprising was the little egg inside the shell, along with the bigger egg's yolk.
Owner Scott Stockman said: "Our free-range collector Zippy found it. We have never seen an egg inside an egg before and we have 50,000 eggs produced on our farm every day.
"Our hens are all well cared for and very happy!"
Mr Stockman said he cracked the giant egg in front of the staff as they were all excited to see what was inside.
A photo of the contents was then posted on Facebook, with the caption: "There was an egg inside of it as well as a yolk!"
The farm has been family-owned and operated since 1923, but they have never seen the phenomenon before.
The post was shared widely on Twitter as well as Facebook, with social media users marvelling at the egg, as well as coming up with some cracking jokes.
This is the equivalent of you quote tweeting one of your own tweets

— This Account Has Been Banned (@UrplePing0) March 6, 2018
This solves the question it was the egg that came first and not the chicken

— ant (@antonsimpson) March 6, 2018
Did they crack the second egg? Maybe there was a third slightly smaller egg 🥚 matryoshka eggs?

— Nancy (@_nancy_sam) March 6, 2018
Gaynor Davies, head of operations at the British Hen Welfare Trust, said: "Speaking as a veterinary nurse who has spent nine years working with hens at the British Hen Welfare Trust, it is very rare to come across an egg inside an egg, and certainly one of this size. I don't envy the poor hen who laid it!
"In terms of the technicalities, this phenomenon occurs when an egg gets stuck inside the shell gland for too long. If the next egg starts being processed before the first one has moved on, this can cause the hen to have a contraction, which essentially 'pushes' the first egg back up into the oviduct.
"The two eggs then travel back down into the shell gland together and a shell is formed over them both, creating a supersized egg. The process is known as a counter-peristalsis contraction.
"Generally this phenomenon is more likely to happen in either hens reaching end of lay or older birds."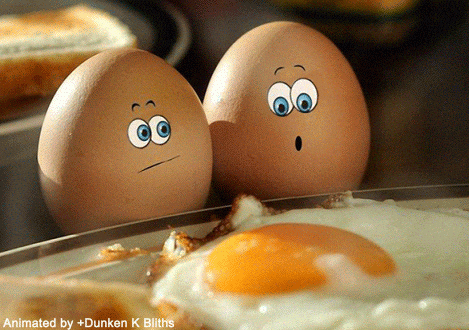 Press Association
Follow @Independent_ie