Are these the 15 best tweets of all time?
They're certainly some of the funniest.
Every regular Twitter user has had that moment where they see a tweet and think "this is why I love Twitter".
It's just such social media classics that have been the subject of discussion this month, after user @Fred_Delicious asked their fellows to share their all-time favourite tweets.
Here are the most popular responses.
1. Fast food thesis
User @AlbertEinlime thought this offering from @xLiserx deserves a spot in the hall of fame.
2. Christians look away now
@DanMentos suggested this Christian joke, saying it "always makes me laugh".
Me: I know you from somewhere

Jesus: I get that a lot

Me: no I'm sure

Jesus: just one of those faces

Me: [holding arms out] go like this

— Nate Usher (@thenatewolf) October 26, 2015
3. Compliments to the thread
@MattKimsey was met with a warm reception by suggesting one of @Fred_Delicious' own tweets is an all time great – here it is.
"Fred, do you believe in ghosts?"
[I glance over to my all-ghost little league team & give them a thumbs up]
"I sure do"

— Fred Delicious (@Fred_Delicious) May 18, 2015
4. The centipede pits
@JoelKrass said his favourite is this brilliant commentary on the flack the perceived millennial generation seem to get.
[shoving Millennials into the Centipede Pits] Millennials want weapons and ladders instead of a warrior's death in the Centipede Pits

— kc and the suntzu band (@suntzufuntzu) July 9, 2017
5. A modest company with modest goals
User @captainkalvis said the all time greatest "has to be this one."
We're a modest company with modest goals:
1: sell a quality product at a fair price
2: drain the world's oceans so we can find and kill god

— Steve D (@Stev_D) October 21, 2014
6. A father's dying wish
@MarfSalvador suggested this tale of emergency is the finest the social media site has offered.
DAD: [grabs chest] Quick! Call me an ambulance.
ME: [hesitantly] You're... an ambulance.
DAD: I'm- I'm so proud of you, son [dies]

— mo (@chuuew) May 4, 2016
7. What happens at the dentist
Creator @LeBearGirdle said user @ErinLuhks was "tooth kind" for suggesting this tweet.
[Dentist waiting room]

Me: [chanting] teeth, teeth-

Other patients: teeth, TEETH

Secretary: [pounding her clipboard] TEETH, TEETH, TEETH!

— brandAn is good (@LeBearGirdle) August 17, 2017
8. Simple but spectacular wordplay
"This tweet kept me awake at night it's so simple yet brilliant," said @KevinBuffalo.
Damn, this part of the library is Lit A-F

— Bea_ker (@bea_ker) April 6, 2016
9. Attack of the clones
@elliotcomedy likes this twin threat.
ME: I think human cloning is a big mistake

ALSO ME: ok wow, I'm right here

— Blah de Vivre (@blahdevivre) April 22, 2018
10. A ruinous exercise plan
@roxiqt likes their comedy on the dark side.
gonna take up jogging again, not to be healthier but to increase my chances of being murdered in the woods

— Official Enya VEVO (@nachdermas) December 31, 2017
11. Count the arms
"I think about this tweet a lot," said @leannuh_renay.
who called it an octopus not an armarmarmarmarmarmarmarmadillo

— Mowgli (@Holy_Mowgli) December 11, 2017
12. Stop hitting yourself
@AlbertEinlime really enjoyed this from @smithsara79.
Me: *slapping my older brother in the face with his own hand* haha stop hitting yourself, why are you hitting yourself

Sister-in-law: *crying* is this why you wanted an open casket

— Not Sara (@smithsara79) December 11, 2017
13. The angel and the bell
"This tweet is literally the reason I joined Twitter," said @looktothepickle.
Every time a bell rings an angel gets its wings. It's always the same angel. It's covered in wings now and wants to die but can't

— sweaty five dollars (@iscoff) June 12, 2012
14. Break-dancing falcon
Many agreed with @newLettuce's suggestion of this tweet, which takes some thinking.
GUY: What does it eat?
ME: [falcon perched on shoulder] Updog
*falcon starts break dancing*
ME: Not yet Tyler, wait until he asks what it is

— huntigula (@huntigula) August 7, 2015
15. And finally, winding down
What better way to wind things up than with @dksc4life's all-time favourite.
I tap on the window & make the "roll window down" gesture. the guy just starts freaking out. not even the flight attendant can calm him down

— the mattress he is conventional, the (@MrMichaelRose) August 5, 2013
Big round of a applause for all these tweets.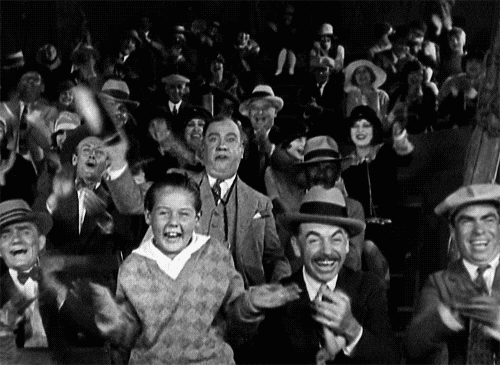 Thanks.
PA Media
Follow @Independent_ie