Irish heatwave to peak on Friday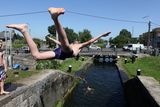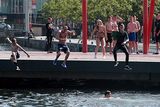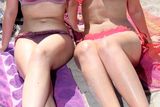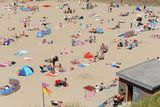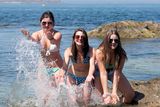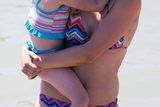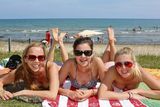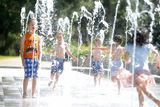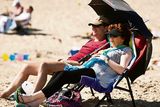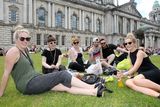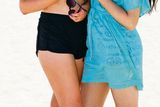 Make sure the suncream is stocked up as temperatures are set to soar to the early thirties by Friday.
The highest temperature recorded today came in at 27.8 degrees in Newport, Mayo.
However, Met Eireann believes the temperatures will climb again late afternoon and evening.
"Temperatures are expected to climb higher in the late afternoon and early evening," a spokesperson for Met Eireann said.
"There's a good chance that today's figures will surpass our highest recordings taken yesterday."
But the heat is to intensify even further as the working week reaches its end, with highs of early thirties predicted in locations around the country.
Met Eireann have already issued a 'Yellow Alert' warning, alerting the nation to stay protected in this unfamiliar heat.
"With no real rain expected, this could potentially become a problem next week.
"Although the weather will become slightly cooler after Friday, it will not be unsettled as a high pressure front will still dominate," Met Eireann said.
While southern counties will still be enjoying relative highs of low twenties after the present heatwave passes, temperatures in the west and north of the country are forecast to fall to the mid teens.
Yesterday Oakpark in Co Carlow was the hottest place in the country as the mercury climbed to a sweltering 28.7 degrees, making it the hottest day in Ireland since July 19, 2006, when Casement Aerodrome recorded a scorching 31 degrees.
Forecasters said this has been the best spell of weather the country has enjoyed since the five glorious days from July 16-20 seven years ago.
But with any extended period of fine weather in Ireland comes the inevitable concerns about water shortages.
Dublin City Council, one of the country's biggest local authorities, has warned that although supply is still meeting demand, people need to be mindful and conserve water.
Dublin and Kerry county councils have already issued precautionary notices asking people to conserve water and avoid unnecessary usage.
Paddling pools and watering lawns have put extra pressure on reserves and people are being asked not to leave taps running unnecessarily and to use water from pools to water their gardens.
Heatwave
"It can be defined officially as a heatwave," confirmed Met Eireann's Evelyn Cusack.
According to the World Meteorological Organisation (WMO) a heatwave occurs when, for five consecutive days, the maximum temperature is five degrees above the average maximum temperature.
"The average maximum temperature for Ireland in July is 20 degrees and we're already getting 25 degrees at midday and we could get 29 and maybe even 30 in a few places.
"We're a good five or even 10 degrees above the average and we can look forward to this continuing definitely up to and including Friday but temperatures will drop somewhat over the weekend to more normal values. But there will still be a lot of fine weather forecast," she added.
New Zealand weather guru, Ken Ring, who correctly predicted the current scorcher, says Ireland's balmy summer will continue well into September and we can expect to enjoy Mediterranean-like conditions for the next two months.
Meanwhile, Dan Joe O'Sullivan (90) from Bonane, Co Kerry, enjoyed his first paddle in Kenmare Bay in years.
"It's as good a summer's day as I can remember," said the retired farmer and builder who celebrated his birthday on May 30.
It's proving a bumper summer for those involved in water-related tourism ventures.
PJ O'Sullivan of Star Outdoors in Dauros near Kenmare has noticed a significant increase in visitors over the past week for their wildlife safari, kayaking, water-skiing and paddle boat activities.
But there are some drawbacks to the hot weather.
The sunburn index will be high so people are warned to protect themselves, particularly between 11am and 4pm.
The pollen count will also be high and people who suffer from respiratory illness and the elderly may find the next few days quite difficult to bear.
Meanwhile, Irish people are being urged to beware sunburn and heatstroke as the temperatures continue to rise for the rest of the week.
VHI said their round-the-clock Nurseline received a number of calls yesterdays regarding sunburn and sunstroke.
The company's medical director Dr Bernadette Carr, said they have identified the top five summer health issues as skin cancer, food poisoning, risk of heat stroke, eye problems and increased risk of drowning.
"We are asking everyone to be aware of these issues and take steps to protect themselves against them," Dr Carr said.
Sunscreen with SPF50 – reapplied every two hours - and wearing a sunhat are just some of the tips being offered by the health insurers