Wexford's Ferrycarrig Hotel invests €1m in wedding venue makeover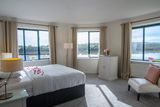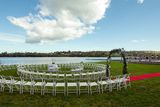 Wexford's Ferrycarrig Hotel is investing heavily into the ever-growing wedding market.
The four-star venue overlooking the River Slaney has been hosting weddings for more than three decades, and civil ceremonies are an increasing growth market throughout the industry. Keen for a slice of that lucrative audience, the hotel has recently pumped €1m into its wedding services; including upgrading the waterfront suite with Armani wallpaper and bespoke carpeting by Couristan, the New York-based designers whose work features in luxury hotels around the world.
Ferrycarrig, owned by the Griffin Group, which also owns Monart and Hotel Kilkenny, recently soft launched its newly designed function spaces, in a hope to grow its average of 110 weddings annuals. The average cost of a wedding in Ireland is €25,000 and catering to 170 guests, and Ireland is one of the world's forefront global wedding destinations.
The seven figure investment also extended to 80 guest rooms and the hotel lobby to give visitors a sense of arrival.
Liam Anthony Griffin, sales and marketing director at the Griffin Group, said the spend was a sign of the value they place on the venue for your big day, citing its win as best venue last year at the Irish Wedding Awards. "We were very keen to build on this achievement and we continue to look forward to ensuring that every wedding day is a dream day for all of our brides and grooms. Even though this is a major investment our work doesn't stop here, we have future plans for upgrading our wedding venue outdoor bar area and even more exciting additions to come in the future too," he said.
Ferrycarrig specialises in outdoor services, weather permitting, thanks to its uncompromising view of the River Slaney Estuary and features indoor-outdoor options from wraparound decking in summer with artisanal ice cream carts in summer and hot whiskey stations in winter.