Match-makers tie the knot after being beaten to aisle by clients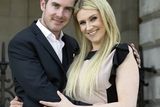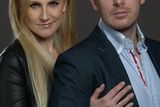 Dublin's top match makers took a break from helping other people find love to walk down the aisle themselves.
Rena Maycock and Feargal Harrington were accidentally set up by Feargal's brother 15 years after their first meeting and went on to build a hugely successful matchmaking business together.
"Rena didn't even look at me the first time we met, but we went for a drink with my brother and 15 years later and the rest is history," Feargal told The Herald.
"There is a job for him with us whenever he wants it," the 30-year-old entrepreneur laughed.
Two hundred guests from around the world flew in to join the couple's two-day celebration at the exclusive Ballymagarvey Estate in Meath.
The loved-up couple are off to the romance capital of the world for their honeymoon, flying out to Paris this weekend.
Their company, Intro Matchmaking, based on Dawson Street in Dublin, is a modern twist on the old-fashioned matchmaking services.
The dating service came about just six months into Feargal and Rena's relationship.
"A few of our clients have shamed us and beaten us down the aisle," said Feargal.
"We were hearing stories from people who were finding it difficult to meet the right kind of person and of all the bad luck people were having online and we thought to ourselves, let's just do this," Feargal said.
"In your 30s, everyone around you is settling down and all of a sudden the wingmen become fewer and fewer so we decided to become that wingman for people across Ireland," said the groom.