Caitlin McBride: It's official, we've finally lost Khloe to the Kardashians
I knew we'd lost Khloe the moment she said she should start being nicer to Kris Jenner.
After years of knocking her momager back down-to-earth both for her own (and our) amusement, Khloe had an epiphany – she was going to start appreciating her mother more and stop being so hard on her, blaming the fact that she was "super overwhelmed" for snapping at her in the January 2016 episode.
A lovely sentiment, sure. But it goes against everything we've seen of her since Keeping Up With The Kardashians debuted in 2007.
In the current series of Keeping Up With The Kardashians, we've all seen a new side to everyone's favourite Kardashian – sure, she'd upped the glamour, shifted 40 pounds and was all about the practical applications of inspirational quotes but we could tell the change was deeper.
Then it hit me. She wasn't making fun of her family anymore. Not like she used to anyway. And her family still very much deserves to be made fun of. Pretty much all the time. Over 10 years of KUWTK on our screens, of watching Kylie's changing face and Kim's changing hairline, Khloe and her take no s**t policy was our one consistency.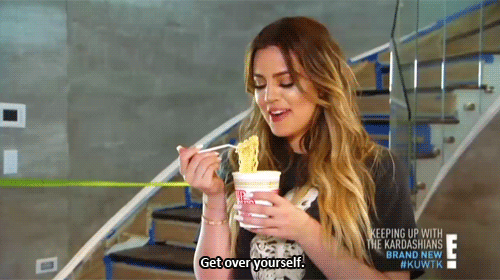 Amy Schumer said it best during her Saturday Night Live monologue last year: "We have to be a role model for these little girls, because who do they have? All they have really is the Kardashians. Is that a great message for little girls? A whole family of women who take faces they were born with as a light suggestion? We used to have Khloe. Khloe was ours, right? Whenever there's a group of women, you identify with one of them … but then Khloe, she lost half her body weight. She lost a Kendall! We have nothing. I want good role models."
A comment she wildly overreacted to and dragged up in three separate interviews days after the show aired.  Old Khloe would have laughed.
Now, she's not only photoshopping her selfies (even though she looks amazing btw), but she's snapping at the "petty haters" for calling her out on it. She's actually annoyed at fans for expressing their disappointment at altering images of herself. Then she wrote about her search for peace, ending the post with "Namaste", which was so passive aggressively written, you could almost feel the heat.
It's not the weight loss – she looks amazing, has worked hard for it and her body is looking better than ever. But she seems to have fallen into the vacuous hole that is Kardashian life. A feat she successfully managed to avoid for the last nine years.
With Kim taking a step back from the limelight to focus on her two young children (and presumably keeping Kanye West from having another public meltdown), there's an opening in the family business for an over-the-top sexy caricature to fill Kim's Jimmy Choos.
Kylie was the natural heiress to the throne, but Khloe went and pipped her to the post out of nowhere. She dyed her hair blonde, cut it into a bob and miraculously managed to double the size of her butt while simultaneously losing half her body weight.
It became more apparent than ever that she had gone to the dark side as she arrived at the Yeezy show during NYFW in a flesh coloured bodysuit, platinum blonde wig and a waist length white fur coat.  She was flanked by her estranged husband Lamar Odom - a man who she last described as being unable to remember anything about the build-up to his October drug overdose and subsequent coma.
So, she took a man recovering from brain damage and struggling with short term memory loss to a fashion show at Madison Square Garden to sit among a crowd of thousands at one of the most photographed events of the year. Including a pose with her entire family and a shot of just the two of them beaming together.
Now, we're seeing more of her than ever as she continues to promote her new show Kocktails with Khloe, where she shares such gems as: "I have a rhinestone whip by my bed that I love. I've used it — I like it used on me."  All this, just weeks after her promotional trail for her self-help book Strong Looks Better Naked.
Her entire Instagram feed is filled with overly airbrushed headshots or strategically posed outfit posts. It's all too much. The hair, the makeup, the braids, the heels, the catsuits, the constant product pushes on social media. Old Khloe would definitely be making fun of new Khloe right now.
Online Editors
Follow @Indo_Style_
Promoted Links