Caitlin McBride: It's clear Kim Kardashian is out of her depth in the fashion world with her latest shoot
Is there anything Kim Kardashian won't do for attention?
No, it wasn't baring her bum on the cover of Paper magazine, it wasn't grinding on her husband topless for his Bound 2 video, it wasn't even divorcing Kris Humphries after 72 days.
It was, in fact, her starring role in one of the most hideous photoshoots I've ever had the displeasure of seeing.
In a spread for System Magazine (styled by Kanye West), with that garish bleach blonde hair falling in her face, she wears flesh coloured underwear with thigh high black stockings, her doe eyes staring uncertainly into the camera.
I don't look at her and see a fierce, fabulous woman who is proudly working her God given gifts (and then the fruits of her labour at the gym) for all the world to see. Instead, I see a woman who looks uncomfortable and out of her depth.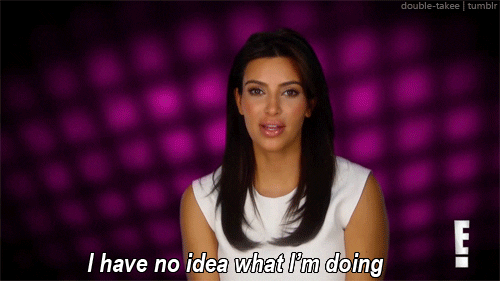 Seeing it, I get a distinct flashback of that time my older sister convinced me it was a good idea to dress as Yoda for Halloween when I was 12 – all because she could. I spent six hours sweating through a full-length, grey polyester cape, trapped behind a rubber Yoda mask, simply because I treated hers as the only opinion that mattered.
You see, Kim is the ultimate changeling, adapting to whatever is cool to her at the time – in 2007, it was Paris Hilton, in 2009, it was acting (remember Disaster Movie?) , in 2011, she released a single (Jam, Turn It Up – I highly recommend you watch it if you haven't already) and in 2013, it was babies.
Since meeting Kanye, it's rubbing shoulders with fashion's elite.
The thing is - sitting front row at Balmain during Paris Fashion Week doesn't make you one of fashion's elite. It makes you wealthy and powerful certainly, but not an overnight style icon, no matter how hard you try. In the same way that posing in front of a pile of dirt in France doesn't make it more chic because the dirt is French.
While her sisters all have very distinctive personalities (I've been keeping up with them since the beginning) – Khloe is the funny one; Kourtney the earth mother;  Kylie the stylish one and Kendall the rising star – Kim was always the boring, but beautiful, one, desperate to fit in with someone other than her mother.
So desperate to fit in that she let her then-new boyfriend Kanye West edit her entire wardrobe in front of millions of viewers on Keeping Up With The Kardashians, the same man who later approved her wedding dress before they married in Italy last year.
What strikes me odd about a spread like this is that it's a major detour in the carefully constructed Kim Kardashian image evolution.
One day, she basnishes all stereotypes by speaking competently and eloquently about app development at tech conventions and the next, she's in her knickers in France in front of some dirt trying her best to smize for the camera.
I'm sure Kanye makes a convincing argument, he is after all, spending most of his times trying to convince the world he's the single greatest artist on the planet, but sometimes you just have to learn when to say no. And this was definitely one of those times.
Now, I'm just going to leave this here...
Online Editors
Follow @Indo_Style_
Promoted Links