All your questions, answered: Nine things to know about Royal Baby number two
With preparations already in full swing for the arrival of the Duke and Duchess of Cambridge's second child, we tell you all you need to know about the new royal baby…
1. Where will the Royal Baby be born?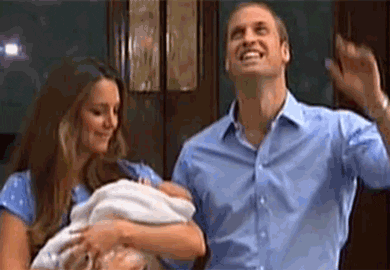 Just like his or her older brother Prince George, the new royal baby will be born at St Mary's Hospital in London. The baby will be delivered in a private suite in the hospital's Lindo Wing where it is reported that the birth could cost up to £12,000. Apparently the Duke and Duchess of Cambridge will receive a 10% loyalty discount, but with a world-class medical team led by the Queen's surgeon-gynaecologist Alan Farthing, Kate's labour will prove to be very expensive indeed.
2. How will the birth be announced?
William and Kate represent a new breed of modern royals and the birth of their second child is expected to be revealed on the official Twitter and Instagram accounts of Clarence House. The hashtag #RoyalBaby was a worldwide trending topic within seconds of Clarence House announcing Kate's pregnancy back in September so the arrival of the Duke and Duchess's new son or daughter is sure to cause a global social media frenzy.
3. What will their title be?
Under past rules issued by King George V in 1917, only the first-born son of the Duke and Duchess of Cambridge would have received the title of Prince and a daughter, regardless of whether she was first-born or not would have been known as Lady. However, in December 2012, the Queen issued a Letters Patent under the Great Seal of the Realm which changed all of this. This means that all children born to William and Kate will receive the title of Prince or Princess of Cambridge. The new baby – whose surname will be Mountbatton-Windsor – will also become fourth in line to the throne, making Prince Harry fifth in line to the kingship.
4. Where will William and Kate go after the birth?
The Cambridges are expected to forgo returning to Kensington Palace after the birth of their new child, instead going straight to their home in Norfolk, Anmer Hall. The 10-bedroom mansion was a gift from the Queen and lays on her Sandringham estate. The home has recently undergone extensive refurbishment work, including thousands of pounds being spent on baby-proofing the Grade 11-listed property.
5. Who will be helping them?
William and Kate already employ a nanny for Prince George and it is believed that they won't be hiring any more staff to help look after their new arrival, although Kate's parents Carole and Michael are rumoured to be moving into Anmer Hall with the young royals during the baby's early days. We wonder if Pippa will be calling over to help with the night feeds? Somehow we can't imagine the Queen or Camilla popping round to pitch in with nappy changes, can you?
6. Are they having a boy or girl?
Since it was announced that the Duke and Duchess of Cambridge were expecting their second child, the gossip columns have gone into overdrive weaving the couple's every move into tenuous indicators of the baby's gender. Kate was spotted in Chelsea's exclusive Amaia boutique where co-owner Segolene Tresca said that she was "very interested" in the girls section, but both William and Kate have insisted that they don't know the baby's sex. William even told Barack Obama that they're leaving it as a surprise. In terms of names, Alice, Charlotte, Elizabeth, Victoria and of course, Diana have all been tipped as potentials if it is a girl and Henry and James are the bookies' favourites if it's a boy.
7. Who will be the godparents?
With Prince George having no less than seven godparents, including William's cousin Zara Tindall, the new prince or princess will certainly be spoiled come birthday time. Traditionally, royals don't choose members of their immediate family to be their child's godparents, we wouldn't be surprised if William and Kate opt to break with convention (again). We think Pippa Middleton and Prince Harry would make the world's coolest godparents but if they are chosen, it's likely they will be two of at least six - with William's step-siblings Laura Lopes and Tom Parker Bowles as well as William and Kate's college friends also being touted as potential godparents to be.
8.  How will the royal baby affect politics?
The royal baby's political impact may be more strongly felt than you think! The announcement of Kate's pregnancy happened days before the Scottish independence referendum in September 2014 and many saw it as a convenient and timely ploy to push a 'No' vote. Scotland's first Prime Minister, Alex Salmond even tweeted the Duke and Duchess his congratulations using their full Scottish titles – the Earl and Countess of Strathearn in what was seen by many as an attempt to restore Scottish faith in the Union. The birth of the new prince or princess will also take place only days before Britain's May 7th general election and David Cameron may well have William and Kate to thank if the birth of their second child serves to boost national pride and restore faith in the status quo by swinging the vote in the Conservatives' favour.
9. How will the birth impact the fashion world?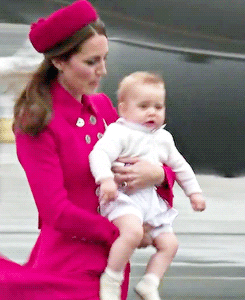 The arrival of the new royal baby has already been estimated to generate over £70m for the British economy with sales of memorabilia set to skyrocket. However, it is possibly the fashion world that will be laughing all the way to the bank if 'The Prince George Effect' is anything to go by. Kate and William's first-born son became an instant style icon, even making it onto GQ's Best Dressed Men of 2015 list with everything he was pictured wearing almost instantly selling out.
A £32 Cath Kidston sweater worn by the Prince sold out in stores within minutes, with the garment quickly been peddled for double the price on eBay. Countless designers will undoubtedly be tripping over their well-heeled shoes to get the young royal pictured in their clothes, but William and Kate are unable to accept freebies due to their position. With Kate's noted love of the high-street (those LK Bennett courts, need we say more?), you can expect to see the newest addition to the royal family decked out in more relatively-affordable garments that will go on to become instantly-coveted and generate millions in revenue for the British high-street.
Online Editors
Follow @Indo_Style_
Promoted Links