Notions & Necessities… gorgeous gunas and season saviours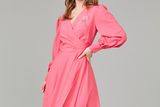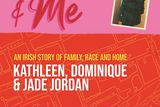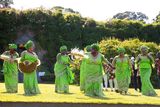 Sarah Caden and Liadán Hynes
It's the season for treating yourself to cosy afternoons by the fireside.
NOTION
Afternoon delight
Or, in the case of Carton House's newly launched afternoon teas, some leisurely lounging in the 18th-century reception rooms with views of the rose garden and surrounding lawns. LH
Afternoon Tea at Carton House, €55 per guest to include tea/coffee; €70 per guest to include a glass of Champagne.
Sittings available to book every Friday, Saturday and Sunday between 1.30pm and 2.30pm. Tel: (01) 505-2000, or see cartonhouse.com
NOTION
Gorgeous gunas
If anything says 'I am done with the leisurewear', it is this beautiful dress from Kate Cooper's A/W 2021 collection.
The Irish designer's latest line also includes a number of classic winter coats, including one in military red, and tailored separates. LH
Dress, €238, Kate Cooper.
Kate Cooper is available in Nina's Boutique, Choice Boutiques, and McElhinneys
NECESSITY
A Family affair
Nanny, Ma, & Me, An Irish Story Of Family, Race And Home, by Kathleen, Dominique and
Jade Jordan is a multi-generational memoir told by a grandmother, a mother and a daughter. It's a beautifully told story of race, community, and family. LH
€14.99, Hachette
NOTION
Conroy at the castle
Back by popular demand in October, having sold out last year, is Don Conroy's painting masterclass at The Lodge at Ashford Castle, Co Mayo.
The package includes a two-night and two-dinner stay, and a full day working with Conroy.
Suitable for both beginners and improvers, the setting overlooking Lough Corrib is beyond compare.
When you're not painting, there are such delights as horse riding, fishing, zip-lining and falconry on the estate. SC
Limited places, €400 per person sharing, see thelodgeac.com
NECESSITY
Season saviour
Come autumn, convincing us to use sun protection becomes a tricky task.
We know, logically, that both the sun's ageing and cancer-causing rays can get through the clouds, but it seems such a hassle to use SPF with no sunny-day pay-off.
This light lotion, with hyaluronic acid to replenish moisture, feels like a moisturiser, but offers broad-spectrum protection like a dedicated sun product.
Your first winter layer before the woollies come out. SC
Neutrogena Hydro Boost City Shield Hydrating Lotion SPF 25, €12.99, pharmacies nationwide
NECESSITY
Sister, sister
In The Glorious Guinness Girls, Life contributor Emily Hourican charted the childhood years of Oonagh, Aileen and Maureen, daughters of the famous brewing dynasty.
She follows that bestseller with The Guinness Girls — A Hint Of Scandal, set in the 1930s, when the sisters are grown-up, married and variously delighted and disappointed by marriage and the unsettled modern world.
Class, privilege and the politics of expectation and entitlement are once again closely observed. SC
'The Guinness Girls — A Hint of Scandal', by Emily Hourican, is published by Hachette Books, €14.99
NOTION
Heavy sleeper
Disrupted sleep has been a feature for many through the past 18 months and getting a good night of it continues to evade some of us.
Siest Sleep, the brainchild of Dublin woman Sine Dunne, offers weighted, sausage-shaped pillows that adults and children can hug, place behind their backs or between their knees for a reassuring feel similar to a cortisol-lowering sensory hug.
Now, for a limited time, get a Voya Pillow Heaven Relaxing Sleep Spray with your pillow order. SC
Siest Sleep weighted pillow, from €179, see siestsleep.com
NECESSITY
Arts attack
Tickets are now available for Waterford's Imagine Arts Festival, which this year celebrates its 20th anniversary.
Running from October 15-24, events, both online and in person, from a multi-disciplinary programme, will include a reading by Megan Nolan, author of Acts of Desperation; talks from Life columnist Sophie White on her bestselling essay collection Corpsing: My Body And Other Horror Shows; and Séamas O'Reilly, author of the memoir Did Ye Hear Mammy Died?. LH
See imagineartsfestival.com
Compiled by Sarah Caden and Liadán Hynes. lifemagazine@independent.ie