Snuggly, squishy and suddenly cool again. You'll be glad of all that padding when the temperature drops, says cosy convert Harriet Walker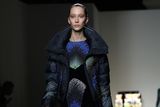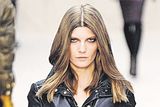 Harriet Walker
© Independent.co.uk
For many years, the puffa jacket has had several less than fashionable - or flattering - connotations: the Michelin man; small-fry football managers who couldn't afford a nice sheepskin; the "Brilliant!" man from The Fast Show. And during one brief phase in 1998, Scary Spice Mel B - accessorised with a bikini top and combat trousers.
But forget what you thought you knew. Because the puffa is a big trend - and what better news as you sit at your desk almost too frightened to set off home because it's so darn cold? What you need, my friend, is a duvet coat.
On the catwalk at Burberry, they came in radiant colours, nipped in and trench-ified for a slick and surprisingly svelte take. Christopher Kane's longer-length version avoids all dubious Nineties-isms with the recurring red moiré print that characterised his acclaimed autumn collection.
And at hip London duo Peter Pilotto too, puffa jackets were printed with the pair's signature digitised prints, given exaggerated collars and cuffs. All too often messing with a puffa feels like sacrilege - like the creation of one of those horrible high-end, leisurewear hybrids - but in fact the new crop benefits from having been styled a little. Colours are infinite - the rash of slate grey and navy versions should be reason enough to look beyond black.
Puffas are surprisingly pretty.
Similarly, modern wadding is less cumbersome, and the puffa is now padded with an eye on a more feminine silhouette. Take Zara's belted version or Uniqlo's jacket - now a modern classic - puffed in thin rows rather than spare tyres that will sit around your waist like an excess of Christmas dinner.
The same goes for detailing - fake fur, toggles or drawstrings, even bows - will help make your puffa more palatable. Certainly, there's plenty to take on board - it's quite the undertaking, given their propensity to go wrong, their long stint in the style doldrums and the fact that a good one can be really quite expensive.
Bear in mind that the central heating, cool and longevity factors tend to rise proportionately with the price. But once you take the plunge, be serene: it'll be the warmest winter you've had in years.