Melania Trump is making a subtle style statement with her latest appearance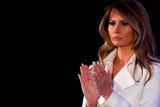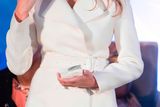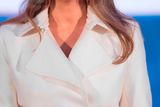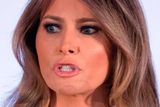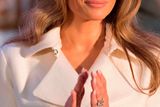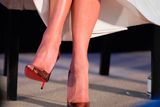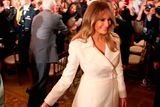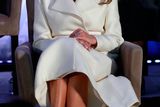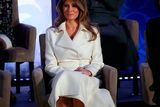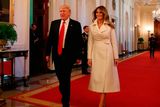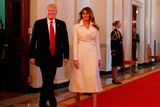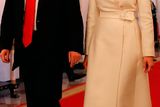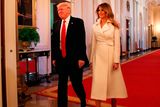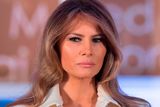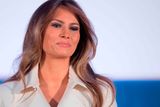 Melania Trump's style might be saying more than we think.
In a rare appearance in Washington D.C. at an event celebrating Women's History Month, the US First Lady wore a chic white coat by Mary Kate and Ashley Olsen's high-end label The Row, but the fact that it's white means more than you think.
White is the colour of the suffragette movement and is appropriate given the occasion honouring inspiring women from around the country on Thursday.
It's not the first time she has made a statement with her personal style - after her husband, President Trump's "grab her by the p***y" comments, she wore a pink pussybow blouse at the next event on the campaign trail.
Wardrobe analysis of the Trump women has become something of a hobby among the fashion set - looking for subtle indications of their political alliances and whether or not their ideologies really line up with the President's.
Many speculated first daughter Ivanka, who has just been appointed an official adviser to her father, was wearing white on Inauguration Day for the same reason, representative of an endorsement of feminism.
Despite the fact that outgoing first lady Michelle Obama's wardrobe featured a mix of high fashion looks with more budget-friendly pieces, the former model is sticking to her love of couture.
Later in the evening, at an event for US Senators and their partners, she opted for a Roland Mouret dress, finishing off the look with a pair of Christian Louboutin heels.
And Ivanka also understands the power and influence her fashion choices hold in her vague new White House role, reporting hiring celebrity stylist Cat Williams for a presidential look, according to the Hollywood Reporter.
Meanwhile, during Melania's speech, which has been largely praised, she spoke about women's empowerment and social equality.
"As leaders, we must continue to work towards gender empowerment and respect for people from all backgrounds and ethnicities, remembering always that we are all members of one race, the human race," she said. "Each one of us is uniquely different."
"We must continue once again to shine a light on the horrendous atrocities taking place around the corner and around the globe.
"We must continue to fight injustice in all its forms, in whatever scale or shape it takes in our lives. Together, we must declare that the era of allowing brutality against women and children is over."
Mrs Trump then met with the winners of the International Women of Courage (IWOC) Awards, apparently stopping with each winner and posing for a photo.
"Their lives remind us of the boundless capacity of the human spirit when guided by moral clarity and desire to do good. Ask yourself if you would have the fortitude of spirit, the courage of your convictions, and the enormous inner strength required to stand up and fight against [the same] odds," she concluded.