How French First Lady Brigitte Macron is becoming a style icon for a new generation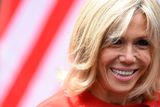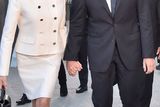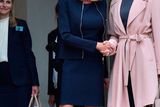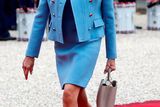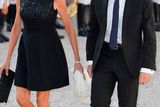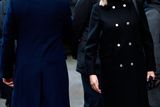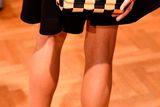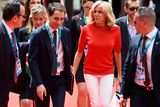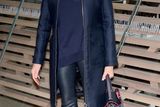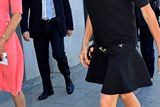 French first lady Brigitte Macron is a style icon in the making.
The 64-year-old wife of French president Emmanuel Macron has a penchant for mini-skirts, leather trousers, tailored jackets and oozes the same je ne sais quoi that French women seem to possess.
She's been scrutinised within an inch of her life –largely due to the 25 year age gap between her and her husband and with every new photo opportunity, she's proving that just because you've reached a "certain age" doesn't mean you have to ditch your chic appearance.
Cathy O'Connor, a stylist and personal shopper, said she is an "inspiration" by refusing to conform to societal norms expected of her: i.e., cover up.
"She absolutely is a rule breaker and in some ways, a trailblazer. As you get older, there are more guidelines and rules on what you can and can't do," Cathy told independent.ie.
"When women enter an older age, they're uncertain about style choices. For most of their lives, they're confident, whether it's in their style or their careers; but they've entered a time that fashion is telling them, 'you're longer really relevant, we're not including you anymore, we're attracting another audience'.
"The results of that are women asking themselves,  'Am I too old for that? Your best accessory is attitude. Wear things that say something about who you are, what works for your body and will feel really confident in your choices."
That Brigitte does: for her husband's inauguration, she sashayed up the red carpet of the Élysée Palacein a sky blue Louis Vuitton military jacket and mini skirt. For the G7 Summit in Italy, she opted for a white military skirt suit by the same designer for a concert in Taormina. During her downtime, she chose a pair of white skinny jeans, a red button detail top and white LV leather tote.
"What I've observed about her is that she has an ageless style, but there's always a detail that makes it pop: if it's a black dress, she'll have interesting heels; a tailored jacket will have some matte leather trousers or jeans; there's always some edge even though it's classic and understated, in some way, there's a little addition," Cathy added.
"Fashion is not about age, in a sense it doesn't matter how old you are, you don't think you are that age. We all feel younger the age we are. It's about attitude, saying, 'This is who I am and I have the confidence to wear these piece. It's about self-expression.
"There she is in her short skirt with her fantastic bare legs and it works for her – she has great legs, great texture of skin and she carries it off. If her legs are showing, she'll never show her cleavage. I think she's really an inspiration in that way. When it comes to style, it's never over."
While meeting Crown Princess Mary of Denmark earlier this month, she wore Louis Vuitton once again – but it was her shoes, the French label's metal toe capped Urban Twist that proved to be the true pièce de résistanceof an otherwise conservative look.
While on the campaign trail, she opted for button details – an emblazoned denim jacket,  a grey coatigan or a slim-fitting bubble jacket with jeans and runners.
Irish style icon and former model agent Celia Holman Lee believes she has quite simply "got it right" and isn't afraid to experiment with her personal style.
"I would say she's a practical dresser with a modern twist and she dresses exactly the way I adore to dress," Celia told us.
"She goes along in a Louis Vuitton suit and skirt above the knee on one occasion and next thing, she has a pair of silver flats – she's not afraid to play with her clothes, she doesn't turn them into uniforms.
"Her looks are age appropriate, on-trend and classy. She's playing on one of her best features: she has beautiful legs, she keeps her necklines high and her sleeves long, but always shows off what she has, which is very clever in any woman.
"I have a good waistline I like to think so I play on that. That is somebody who knows her style."
Brigitte's legs and blonde bob are her two style staples and neither are stereotypical of a grandmother of seven.
"When I first heard she was married with children when she met him [Emmanuel Macron], I was expecting to see someone totally different. When I looked at them together and saw her – she's a strong woman, he adores her, she's proud to be 64, he's proud she's the older woman, it's a lovely mix and a nice role reversal.
"I don't go through pictures of Camilla Parker Bowles, who is around the same age, but I would go straight through someone Brigitte is wearing – I love her style."
While her impeccable taste might have won over the fashion police, that iconic bob isn't for everyone and Jenni Crawford, Creative Director at Kazumi salon on Dublin's Molesworth Street, said her striking hair style isn't best suited to her face shape.
"It is very striking but it's not the best on her," Jenni explained. "If you look at some photos with her hair off her face, it's so much more suitable to her," adding it's a "very high maintenance" look which would require near-daily professional blowdries.
"As a hairstyle, there's a lot of colour in it, it's quite high maintenance. At the moment, all the big hair around her face for me personally is you're hiding something."
I suggest her fringe could be a 'botox fringe' – when women prefer to get their hair styled in a new way than visit their dermatologist for some botox – but Jenni believes it's largely down to a convincing hairstylist.
"She's a striking woman, she has the same features as Raquel Welch - if you look at the transition, she went from the big beautiful head of hair to softer texture hair. There's far too much colour in her hair, it's causing a swelling on the cuticle of hair that would be adding to the bouffant," Crawford added.
"When you look at the events she's been in, she's surrounded by male suits and dark, she wears darker tones herself so the blonde hair is going to pop anyway. That's what you see first with her, when I see her in photographs, I just see hair."