Style notes: Bespoke designs from Heidi Higgins, a ballet-inspired collection and best-dressed tips for Punchestown
Our fashion editor rounds up the latest style news and fashion trends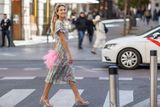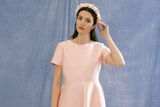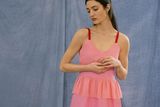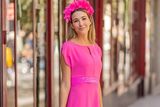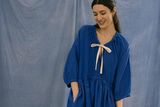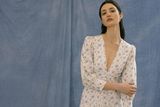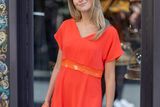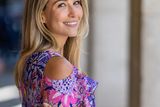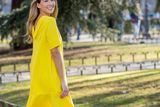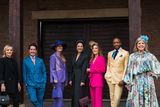 Dressing women for special events in their lives comes easy to designer Heidi Higgins. And while the busy mother of three has moved to a different business model in recent years, she is very much about quality fashion pieces that allow you to stay true to your own style.
With that in mind, you can do a phone consultation with Higgins in which she will advise about styles and fit or, if needed, adjust a style — whether you want a longer sleeve or a dress in a different colour or fabric.
This bespoke offer is part of Higgins's no-waste sustainability programme. She makes each dress once an order is placed, and this takes two to three weeks or less, which is the case at the moment, so good news for mums with a communion coming up.
The 'Alicia' floral dress in lightweight crepe is a super relaxed but impactful look styled with a headpiece (€110) from milliner Deb Fanning.
The 'Ada' dress in orange (€375) has a sequin waist and high-low hem, while the 'Mariella' dress (€325) has an open shoulder, ruffle detail and peplum (€325) and comes in a purple print and in mint green.
Yellow and pink are proving hugely popular colours, and check out the loose-fitting 'Carmen' shift dress with roll collar (€285) and the 'Valeria' dress (€375) which cinches the waist and flatters the hip.
A selection is available at Arnotts on Henry Street and the full collection is available on Higgins's website. heidihiggins.com
Balletic touches
A visit to the National Gallery in Dublin to see the 'Pastel Revealed' exhibition comes highly recommended.
Running until June 5, admission is free and you can view one of my all-time favourites, Edgar Degas's Two Ballet Dancers in a Dressing Room.
Fashion designer Niamh O'Neill is also a fan of Degas's work, and his ballet dancers provided the inspiration for her exciting new SS23 collection.
"A lot of his ballet dancers are in white dresses with maybe a blue bow. In one of his paintings, the dancers are wearing pink, and while I don't always do a very literal translation, I felt I wanted to do a literal translation here and do a pink dress, but to update it — a dress you can dance in, and go out," O'Neill explains.
"I started my daughter, Violet, in ballet when she was two because I never got to go myself. Talk about living vicariously through your child," she says.
The dress, named 'Ballet', is made in soothing pink linen which comes from Baird McNutt in Northern Ireland. It has contrasting red linen shoulder straps, pockets, and an overlay of soft cotton tulle detail at the waistband (€295).
Her 'Celebrate' dress comes in pink, and the fit-and-flare silhouette holds its shape beautifully in mikado fabric.
"I love the idea of taking a really classic shape and classic fabric and to use really precise cutting and minimal shape just to make it more modern with clean lines," explains the designer.
In the past, O'Neill collaborated with sustainability advocate and vegan chef Holly White, and this season there is a Niamh X Holly 'Ruffle' dress in floral printed organic cotton (€295). niamhoneill.com
Racing style
No one should underestimate the interest in dressing up for the races. More than €6m is spent by women on fashion in advance of the Punchestown Festival each year, according to a research report carried out at NUI Maynooth on the economic impact of the festival.
The five-day event kicks off next week, and the 'Bollinger Best Dressed — Full Stop' competition, open to ladies and gents, takes place over the first four days, with daily winners on Tuesday, Wednesday and Thursday and the finale on Friday.
The Style Council judges are led by Jess Colivet, well-known as a personal shopper at Kildare Village, and the line-up also includes stylist Roxanne Parker of sustainable fashion podcast My Soul Style, along with a number of influencers.
A new face to the judging panel this year is David O'Connor, general manager of the Louis Copeland group, aka The Style Doctor on Instagram. A passionate flag-bearer of gentlemen's style, he tells me he will be looking for impeccable grooming, excellent tailoring fit and perhaps a different take on the traditional occasion suit.
Green continues to be a big trend in menswear, and the SS23 grooms are liking the white tuxedo jacket look worn with black trousers. Separates are coming into their own too, with matching waistcoat and trousers and a jacket in a second colour, O'Connor explains.
The Louis Copeland 'Made to Measure' event has been extended and now ends tomorrow week, April 30.
For more information on the racing festival and the valuable style prizes, see punchestown.com.