Melania Trump opts for sky blue Ralph Lauren dress for Inauguration Day as she greets Obamas at White House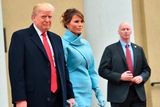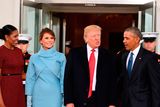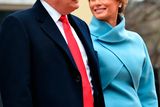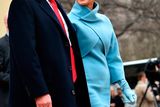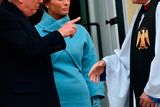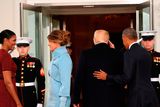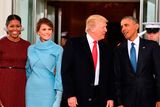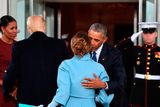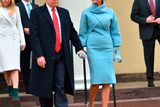 It looks like Melania Trump is taking inspiration from another First Lady, at least in the style stakes.
The former model, who requested to be referred to as Mrs Trump in articles as relayed to the New York Times, took a page out of Jackie O's book in a sky blue ensemble by American designer Ralph Lauren for Inauguration Day.
She opted for a bright, all blue layered dress with matching gloves and shoes, opting to wear her hair in a loose chignon bun.
President-elect Trump and his wife of 12 years met outgoing President Obama and First Lady Michelle at the White House today before the inauguration outside the U.S. capitol this afternoon.
She was greeted by Michelle with a hug and kiss on the cheek by Michelle, who kept her arm around her as they posed for pictures outside 1600 Pennsylvania Avenue.
Later today, it's expected Melania will wear designs by Karl Lagerfeld, marking a departure from the traditional rule of the First Lady wearing only US brands for such an occasion.
While Ralph Lauren is widely regarded as a quintessential American label, German designer Lagerfeld, who is based in Paris and designs under three brands - Chanel, Fendi and his own eponymous fashion line - would be a notable choice for the Slovenia native.
Michelle Obama opted for a yellow suit by Cuban-American designer Isabel Toledo for Barack Obama's 2009 inauguration ceremony, and a one-shouldered white silk chiffon gown to the evening inaugural balls, designed by New York-based Jason Wu.
In 2013 she chose a belted blue-checked coat by Thom Browne for the daytime ceremony and a red halterneck gown for the evening, again by Jason Wu.
Both Lauren, who was Hillary Clinton's go-to designer during the presidential campaign, and Lagerfeld are very well known brands, which would also mark a departure from the tradition of the First Lady shining a spotlight on relatively unknown labels.
Mrs Clinton opted for Sarah Phillips and Laura Bush chose Michael Faircloth to design their gowns for their first inauguration balls, both lesser-known designers whom they had worn before.
Mrs Trump has scaled back her flashier wardrobe choices since she became the First Lady-to-be and has already displayed her affinity for Lauren's clothes, sporting his black jumpsuit for the third presidential debate, and wearing his white jumpsuit on election night.
Lauren is also no stranger to dressing First Ladies and has already designed for Mrs Obama, Nancy Reagan and Betty Ford.
If Mrs Trump chose a Lagerfeld design for Chanel it would echo the most famous Chanel outfit ever worn by a First Lady - the pink suit Jackie Kennedy wore when President Kennedy was shot.
On Thursday Mrs Trump opted for a custom-made black coat by New York designer Norisol Ferrari for a wreath laying ceremony at Arlington National Cemetery, teamed with Gucci sunglasses, and later donned a sleek gold gown by Reem Acra, a Lebanese-born, New York-based designer.
Acra recently dressed Jennifer Lopez in a navy blue gown for the People's Choice Awards, while actress Emily Ratajkowski opted for her racy yellow silk dress for the Golden Globes.
She has also dressed stars including Beyonce, Taylor Swift and Halle Berry.
Mr Trump's own fashion choices have been the subject of controversy because he has stated a preference for suits by Italian menswear label Brioni, writing in his book Trump: Think Like A Billionaire that the brand supplied him with suits for The Apprentice.
Brioni also has a boutique in the newly-opened Trump International Hotel in Washington DC.
In July 2016, GQ's associate style editor Nick Carvell wrote: "What does that say of a man who espouses the need to create more American jobs for American people - then wears clothes cut by European designers?"
Whatever Mrs Trump chooses today will take its place in fashion history. The First Lady's inauguration gown is typically donated to the Smithsonian's National Museum of American History.
Additional reporting by Press Association