Darren Kennedy's Top 10 Dublin fashion hotspots
The face of this year's Dublin Fashion Festival, Darren Kennedy knows all of the capital's most stylish haunts. Here, the Weekend columnist shares his list of where to shop and where to be seen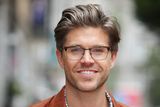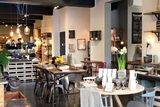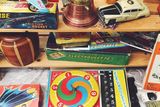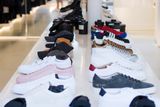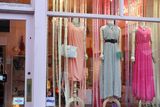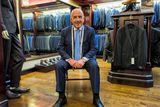 I'm genuinely delighted to be the new face of the Dublin Fashion Festival (DFF) and Galaxy style ambassador for 2016. I'm the first man to take on the role. Menswear is being given a much more considered focus this year. Whereas in the past there were just a few men's looks in a predominantly female show, this year DFF has dedicated men's stylists.
Dublin has this lovely mix of high street stores and smaller boutiques with one-off and quirky pieces. So, you can see Irish designers with small collections right beside the bigger players. I think we produce excellent designers here who are producing exceptional designs, and the DFF offers them a big platform.
The Young Designer of the Year award takes place during the festival. The 12 short-listed newcomers will have their pieces displayed in an exhibition in Powerscourt Centre for the next month. Some of the biggest buyers in the country attend the finalists' fashion show, so it's great exposure. I know that when I started out, I really struggled to gain exposure, because there aren't that many outlets here. It's a double-edged sword though, because while people talk of the relatively smaller size of the market here, on the flip side, you get access to the buyers that you would never get in the UK.
I'm always over in London, and people there ask me how Dublin style compares. I think we were always punching above our weight, and are really stepping to the fore now. We can sometimes overlook the fact that we, as people, have an innate relationship with textiles, and we don't really vocalise it like they would in London or New York. We have such rich textile production - including tweed, linen, and Aran knitwear - and we sometimes take it for granted. We kind of assume we're starting from the back foot, whereas I think we have an advantage - even Alexa Chung loves an Aran jumper! Read on for my top 10 Dublin fashion hotspots…
The Dublin Fashion Festival, sponsored by Galaxy, runs from September 5 to 11, see dff.ie
1 OM DIVA
27 Drury Street, Dublin 2, omdivaboutique.com
I feel that this concept store is unique in what it offers. Vintage and contemporary fashion, occasion wear, Irish-designed jewellery, accessories and gifts - it has it all. The store is spread over five different levels and for me, it feels like the next level of George's Street Arcade, which has some lovely vintage shops.
Om Diva is owned by Ruth Ní Loinsigh, and it has a lot of space for up-and-coming designers in Atelier 27. It's great because it gives them places they can actually work from and sell from right in the heart of the creative quarter. They keep things interesting there because there are always different events or quirky little things going on, generating a buzz and getting people in. A sewing school, called the Sip and Stitch Academy, is also on there, which is quite fun.
2 NOWHERE
65 Aungier Street, Dublin 2, nowhere.ie
This store created a buzz in the menswear scene when it opened. It's a cool concept store - one of the coolest in the city - and it stocks everything from one-off sunglasses to unusual fragrances. It has a very considered edit, and some of the labels I love include Matthew Miller, Christopher Shannon, Marni and Raf Simons.
Another designer they have is Christopher Raeburn, who is the darling of the London fashion scene. One of my favourite purchases from Nowhere is a raincoat from the Swedish label Stutterheim. I met the designer and he was inspired by his grandfather's old fishing raincoats in the shed, so he took them and completely revamped them. They come in bold statement colours, and Jay Z wears them quite regularly, so that was huge for the designer.
3 SIOPAELLA
Cecilia Street, Temple Lane South and Crow Street, Dublin 2, siopaella.com
Siopaella is an innovative swap shop, boutique and confinement store with three outlets in the city centre. They have lots of great quality pre-loved designer clothing and accessories of great quality.
I bought a Prada suitcase there, and it's so gorgeous I only used it once. It has now become a piece of art - it sits like a decoration on one of my shelves. Siopaella allows people to have a clear-out of their wardrobes, and it generates a little bit of money for them to put towards their next luxury purchase. I love the Siopaella stores because they are dog-friendly so I can bring Harry, my mini Yorkie, inside. The owner Ella's little dogs are always in the shop, so it's great to go in and give them a snuggle.
4 INDIGO & CLOTH
9 Essex Street East, Temple Bar, indigoandcloth.com
Indigo & Cloth is a really sharp men's store that has an art gallery type of layout. It's a very welcoming space that's very easy to cruise around. I think a lot of guys' stores can be quite cluttered or you feel like all eyes are on you, but this isn't crowded at all and they give you a bit of breathing space. They have a very good aesthetic and edit, and great labels like Our Legacy, Norse Projects and Oliver Spencer.
One of my favourite things bought there is a pair of Oliver Spencer, double monk strap, oxblood shoes. I loved them so much, I bought them half a size smaller, because that was all they had left! They have a coffee bar there and a graphic design studio upstairs too, so it's a very collaborative space.
5 BROWN THOMAS
88-95 Grafton Street, Dublin 2, brownthomas.com
I have to mention Brown Thomas, as I find myself shopping in there a lot. They stock quite interesting labels and, lately, the buyers are doing a great job of finding obscure little pieces. Some are statement pieces, but they strike a balance between that and commerciality, which is tough to achieve. Some of my favourite labels, like Neil Barrett, are exclusively stocked there.
They also present Create at Brown Thomas every year, which is an amazing platform for young Irish designers across menswear, womenswear, accessories, millinery and jewellery. The up-and-coming designers are selected by fashion director Shelly Corkery, and the showcase gives a huge opportunity to them to get their pieces into what I consider to be one of the top department stores in Europe.
6 NINE CROWS
5 Ormond Quay Lower, Dublin 2, shopninecrows.com
Nine Crows got its name because it originally started off on 9 Crow Street in Temple Bar. They do nice vintage clothing and quirky pieces that you may not find on the high street.
A lot of the stock is pre-loved, and they buy vintage and reworked clothing drawn from different eras of fashion. There's a nod to the vintage 80s revival - with Gola bags, vintage Adidas and Cappa, and all of those old-school brands. It's very hipster but very now. The people behind it, Emma Fraser and Dean Ryan McDaid, have even set up an agency, called NotAnother, which is about looking for interesting or different models and breaking that cookie-cutter mould.
7 POWERSCOURT CENTRE
59 South William Street, Dublin 2, powerscourtcentre.ie
I like Powerscourt Centre because it's filled with all sorts of cafés, boutiques and shops. It's a lovely Georgian building, with over 40 shops covering everything from art to beauty, fashion, jewellery and antiques.
The centre hosts everything from Article, the hip homewear store, to fashion-forward places like the Design Centre, which has collections from designers like Erickson Beamon, Philip Treacy, Caroline Kilkenny and Synan O'Mahony.
I really love the space itself though, because even if you just need a 20-minute break from pounding the pavements of town, it's a great little spot.
You always see an interesting mix of characters, from tourists to avid shoppers, but not in an overbearing way. I think it's so easy to lose an afternoon in a shopping space like that, as you can sit down, have a coffee and watch the world go by.
8 LOUIS COPELAND
18-19 Wicklow Street, Dublin 2, louiscopeland.com
I have my signature suit collection with Louis, so I spend a lot of time upstairs in that store, which has a fire in it and these big, lush, vintage brown leather chairs. There's lots of room and plenty of natural light there, so it's a great place to escape the craziness of the city centre if you want something tailored. As well as Louis Copeland's own range, they do brands like Canali and Ted Baker and leisurewear like GANT.
Louis is very personable and the quality of customer service you will receive in any of his stores is outstanding. That's really important as that kind of personal care has kind of been eroded from many places. He has photos of all the celebs who have graced his shop on the walls there, so you will see the likes of Bill Clinton, Brad Pitt and all sorts of amazing people.
9 INDUSTRY & CO
41a/b Drury Street, Dublin 2, industryandco.com
Industry & Co is a kind of hipster heaven for all things vintage, upcycled and interiors. I love it because they have an in-store café and deli and serve good coffee, which is a plus in my book. It's like olde worlde crafts and modern industrial interiors have clashed and collided there, so you find everything from traditional woven baskets to stainless steels, rough wood, and tarnished and worn fabrics.
My favourite purchase from Industry was a lamp - a jar encased in metal that looks like a modern, industrial-style lantern with a really long cord. I also bought a little wooden elevated shelf that acts as my bar. The staff know all about the products, and once when I was looking for a very specific type of dining table, they were able to offer good advice and gave me great pointers.
10 DUBLIN FLEA MARKET
Newmarket Square, Smithfield, Dublin 8, dublinflea.ie
You never know what you are going to find in here, which is part of the charm. It first began in 2008, and they have around 60 stalls now, selling everything from vintage clothes to second-hand bikes and retro furniture, and it's all quite thrifty so you are bound to get a bargain. I find flea markets best when you are not looking for anything in particular, and you pick up something amazing as you're wandering around.
The market takes place on the last Sunday of every month, and if the weather is good, they put it on outside, so it feels quite continental and fabulous. There are loads of food stalls and DJs and live bands, so you can listen to a few tunes. The Co-op's organic food market is also open next to it.
Darren's top fashionable hangouts
Gaillot et Gray
57 Clanbrassil Street, D8
This French bakery and pizzeria is a fairly new spot. You can have really lush, wood-fired pizza and homemade bread made on the premises. It's really laidback and set in minimalist surroundings. It's also BYOB so you can bring your own wine as well.
Saba
26/28 Clarendon Street, D2
This Thai restaurant is located in the heart of the creative quarter, so you're guaranteed to bump into creative or artsy types on a weekday afternoon. They have fab cocktails, and the food is amazing. I can't resist their Bangkok noodles and swordfish curry. They also do delicious paleo meals.
MVP
29 Upper Clanbrassil Street, D8
MVP is a dog-friendly boozer. It's really relaxed and they have an 'old man' kind of decor, so it's simple, pared back. They have sing-a-longs and really random, but interesting, events upstairs - recently, they had a chap there talking about the roots of the Dublin brogue.
The Fumbally
Fumbally Lane, D8
The Fumbally is like a hipster utopia, and I like going there, although I don't consider myself a hipster. They do great food, and If you're looking for a great backdrop on a rainy day for an 'outfit of the day' Instagram pic, The Fumbally is the place to go and be seen.
Little Bird Café
82 South Circular Road, Portobello
This café and yoga studio is really nice. I would like to say I go there for the yoga, but I don't. On a sunny day, I like to bask on their terrace and people watch, take in the sun, read a book or answer emails, with a really strong flat white in my hand and Harry on my lap.