An Irish Goodbye filmmakers party night away after Oscars win - 'This is the most bizarre experience'
'To have the guys with us in LA celebrating is just so magical and to have that on James' birthday is even more special'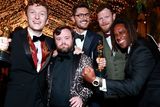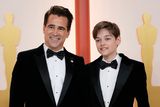 Breakout stars James Martin and Seamus O'Hara partied the night away after their historic Oscar win for Best Live Action Short Film for An Irish Goodbye.
The short film was one of just two wins for Ireland out of 14 nominations.
Despite earning nine nominations The Banshees of Inisherin failed to pick up a single gong.
Host Jimmy Kimmel brought out onstage what he maintained was 'Jenny the donkey' from the celebrated film shot in the west of Ireland, but insiders confirm it is a lookalike and she is still living in a secret location in Co Carlow.
Dubliner Richard Baneham was Ireland's second winner of an Academy award, winning for Best Visual Effects for Avatar: The Way of Water. It is his second Oscar, which he also won for the original Avatar film from 2009.
An Irish Goodbye tells the story of two brothers, one of whom has Down Syndrome, as they come to terms to deal with the death of their mother and what to do with a farm left to them.
The cast and crew of the film, which was shot in counties Down, Derry and Antrim, partied afterwards at the Vanity Fair function which was a double celebration as it was James' 31st birthday – an occasion which was marked by the star-studded audience in the Dolby Theatre singing 'Happy Birthday' to him.
"This is the most bizarre and exciting and fulfilling and bizarre again twice experience of all our lives," co-director Tom Berkeley told Independent.ie.
"I'm sure that goes for the cast and the crew, because we won an Oscar."
His co-director Ross White was equally chuffed.
"We are just so thrilled to be here for a start, and then to be up on that stage collecting these Oscars and to have James with us and Seamus with us, this has been a such a labour of love.
"In the best way we have all thrown our everything into this project, and to have the guys with us in LA celebrating is just so magical and to have that on James' birthday is even more special. He deserves everything.
"And the fact that we could have that little moment singing with him on stage, I will never forget that."
Tom admits he was blown away by the stars who surrounded them.
"To see the likes of Stephen Spielberg, Michelle Yeoh, the people singing happy birthday for our man who we thought the world of ever since we met him, to little Jimmy Martin is one of the most special moments I think probably of our lives.
"As short film makers you never set out thinking that you're going to end up anywhere near something like the Academy Awards as emerging film makers, for us it's really about us building up a portfolio of work and trying to create something that people enjoy and that we're proud of and this has gone above and beyond our expectations at every stage."
Ross noted that this has been an amazing year for the Irish film industry,
"Looking at this year for Ireland and Irish cinema it's been absolutely remarkable," he stresses. "To be a small part of that for us has been really such an honour, really such an honour and we are proud to be representing Northern Ireland in that and to now come up and pick up this award just means so much.
"The work on show from the Irish artists here and the sense of camaraderie and support throughout this whole process from these massive films right down to our little film has been so galvanising for us all, we have become really great friends from it and I'm excited to continue that friendship with the likes of Martin McDonagh, and Colm Bairéad and Cliona (Ní Chrualaoí) all these creatives and film makers that we are so much in admiration of."
Tom also singled out James for special praise.
"James' work in the film is really extraordinary and rightfully there has been lots of questions about representation and what this means for representing actors with not just Down Syndrome, but actors with disabilities and I think that what is amazing, that hopefully this film can demonstrate, its not enough just to have those characters present in films, they need to have agency in the story, they need to have complex characters.
"They need to be multi-faceted and interesting, and flawed in their own way as well and they need to have control in the narrative and James's performance I think in the film has really shown what can be done when you entrust actors with that responsibility within the narrative."
Ross added that they were looking forward to letting their hair down.
"I think we are going to have the night of our lives tonight," he beamed. "We are going to go out and celebrate this amazing achievement for us all and we are going to get all of our family and friends around us and just have an amazing time.
"Tomorrow the plan is to go to the beach and play some volleyball and chill out, because this has been very intense for us. But we are absolutely buzzing for what's going to be a crazy night."
Tom noted that they were missing one of their trio of film makers, Paddy Jenkins from Strabane, who could not make the trip.
"Paddy, you are here in spirit," he reflected. "Paddy sent us all lovely cards with a little gift inside, a little good luck gift, and that served us well tonight."
Ross added with a smile: "Paddy you had a dream that we would win, your dream was correct!"
Richard Baneham, who hails from Tallaght, Dublin, was Ireland's other Oscar winner and threw in some Gaelic in his acceptance speech by proclaiming 'Go raibh mile maith agat".
"I think it (the latest Avatar is just as good, it's an ensemble cast so it presents a different problem for us, which is a much broader spectrum of visual effects- as far characters are concerned that needed to be dealt with, but it was a healthy and hearty undertaking but well enjoyed," he told us.
The 49-year old added he is living in L.A. for 28 years.
"One thing leads to another, the steps that were involved in I got into animation. Animation opened up all sorts of avenues here."
He said he worked for Warner Brothers "when 2D was kicking off as a medium movies were being made in, less so now and somewhere in the early 90s I switched over to 3D and that leads us to where we are today."
Richard revealed he is currently working on not only Avatar 3, but also parts 4 and 5 of the franchise which was first released in 2009.
Best Actor nominee Colin Farrell literally flew the flag for Ireland by sporting an Irish tricolour on the lapel of his tuxedo when he was accompanied by his 13-year-old son Henry in the front row, but there was disappointment for the Banshees of Inisherin which failed to win any of its nine nominations.
Best Supporting Actor nominee Brendan Gleeson was accompanied to the ceremony by his wife Mary, Best Supporting actress nominee Kerry Condon by her brother Roddy, while Best Supporting Actor nominee Barry Keoghan was kept company by his Scottish girlfriend Alyson.
Best Actor nominee Paul Mescal was joined in the second row of seats by his mother Dearbhla, while Banshees writer/director Martin McDonagh was joined by his partner Phoebe Waller-Bridge.
Also in the stalls was An Cailín Ciúin's 13-year old star Catherine Clinch, which was nominated for Best Foreign Film as well as Dubliner Jonathan Redmond, who was nominated for Best Film Editing.
Everything All At Once scooped Best Film, while Best Actor went to Brendan Fraser (The Whale) and Best Actress to Michelle Yeoh (Everything All At Once)
Many of the Irish acting community gathered at the Auld Fella bar in the L.A. suburb of Culvert City at an event organised by the city's Contemporary Irish Arts Center.
There were loud cheers and celebrations when An Irish Goodbye and Richie Baneham won, but groans of disappointment at our 12 losses.
There were similar scenes at a function organised in the Irish Consulate, which was attended by among others film director Jim Sheridan, actors Caroline Morahan, Kellie Blaise and Kevin Ryan, former EastEnders star Michelle Collins (Cindy Beale), Mayor of Limerick Francis Foley and Screen Ireland chair Susan Bergin.
Arts Minister Catherine Martin also attended the event.
"The scale of the collective achievement of our nominees is something we have never seen before," she pointed out.
"It gives us a profile in this year's ceremony that is beyond anything we could have previously have imagined.
"We have all collectively witnessed this at first hand over the past few days. And we have all seen the value of this for our industry, our tourism, our language and how it has been a boost for the whole country."