Meet Nadine Reid, the makeup artist turned media star blazing a trail for a fresh type of femininity on Irish television
She went from make-up artist to media star after a chance meeting with the Xposé team mere months ago. Now Nadine Reid is blazing a trail for a fresh type of femininity on our TV screens - and having a blast while she's at it, she tells Meadhbh McGrath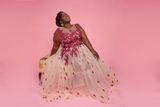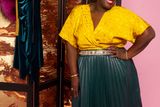 Nadine Reid is having a breakout year. But she's not your typical willowy young ingénue from SoCoDu - born in Birmingham, some "35 to 40" years ago (she doesn't want to get too specific) and now a reporter on Virgin Media's Xposé, Nadine is one of the few black, plus-size women in Irish public life. "Sometimes I wonder if it was always my destiny to work in the media," she says, when we finally speak, after the increasingly in-demand presenter was forced to reschedule four times.
Nadine had stars in her eyes from a young age and proudly looks back on her turn as gangster moll Tallulah in a school production of Bugsy Malone when she was 10. She went on to a degree in media studies, but her dream of being in front of the camera was soon overshadowed by pressure to "get a real job", she says, leading to a successful career as a make-up artist. "I landed myself a decent role with MAC and did very well there - I had a company car and credit card, and my family were really proud of me. But after 10 years, I thought, 'There's probably something more for me to do,'" she recalls.
Shaken by the death of her grandmother, Nadine was looking for a change, and when a friend invited her to Dublin for a job in 2015, she was smitten. "People often ask me, 'Why Ireland?' And I say, 'Why not?' I'm from Birmingham, and it's just a flat factory town," she says, although she is quick to add that she loves getting home to visit family.
On Instagram - Nadine's preferred social media platform - she frequently shares motivational quotes with her followers, and she has adopted some of that language, describing herself as "living my best life", "enjoying the path" and "feeling blessed". She even has her "own personal hashtag", #IfNadsCanYouCan. But she's also refreshingly unfiltered - apart from her dating life, nothing is off the table and she's breezy and chatty, with a bright, easy laugh.
Nadine is an only child, with half-siblings on her father's side, and was raised by her Jamaican mother and extended family. "I grew up in a single-parent family but I don't feel comfortable using that phrase, because even though my mum was alone, she actually wasn't. My uncle would pick me up from school, my aunts were there… At every play or school event, I would have more family there than people with two parents," she says cheerfully. "I'm really lucky, my mum gave me absolutely everything. But I wasn't spoilt - my mum would still go, 'Do you really need another piece of cake?' Don't get me wrong!"
She credits her mum with paying her "black tax", a term she picked up from comedian Trevor Noah, who describes his mother as using her opportunities to help her family members, rather than herself, to achieve the blank slate automatically afforded to white people. "My mum always taught me that I can achieve anything, regardless of where I'm from, my size or any of that stuff," she says. "She paid my black tax by making sure that I wasn't a person that would have to feel, because I'm black or from a Jamaican family or a working-class family, that I don't have opportunities.
"My grandparents came to the UK with nothing. My grandma used to work in the hospital canteen, my granddad used to make bullets in the bullet factory, my older uncle worked in factories making tyres, all these very basic, menial jobs. I was never taught to think that because you're black, you can't achieve things."
Since moving to Ireland, Nadine says she's gone from being "the black girl" to "the English girl". "What I love about Ireland is I find people are more likely to ask, 'What part of England are you from?' It's interesting, because they don't ask, 'What's your ethnicity? Are you from the Caribbean? Are you from Africa?' I've had no negative experiences because of my race. Sometimes I feel more nervous about being born in Britain than being black!" she cackles.
When she arrived in Dublin three years ago, Nadine knew just two people, but she quickly learned to say yes to every invitation. "I've been really lucky to meet so many people working as a make-up artist - hairdressers, photographers, editors - by simply being in that scene," she says.
She attended the Xposé Benefit Awards this year to support her friend, hair stylist Trudy Hayes, and it was there that she met the management team behind Xposé. "Within a few days, I had a call asking me to come in for a screen test. How awesome is that?"
Nadine has been presenting for less than six months, but she's already interviewed celebrities, walked the red carpet and covered major events, including the Dublin Horse Show, a personal highlight. "I'd seen a horse maybe once in my life, so to see so many people excited about horses was fascinating to me. That was my most entertaining gig that I've done."
As a reporter, Nadine tends to be out on location rather than in studio with co-presenters Cassie Stokes, Glenda Gilson and Karen Koster. "Everyone's so friendly here. We don't actually spend that much time together, but when we do, it's adorable," she says.
Nadine chooses her own clothing for Xposé and explains that while she's been lucky to have brands sending in clothes, trawling the high street can prove challenging as a size 20. "Shopping is difficult if you don't fit the mainstream size," she says, although she squirms at the labels "plus size" or "curvy". "I probably just use 'Nadine'," she laughs. Debenhams, Marks & Spencer, New Look and River Island are her favourite places to shop, but she points out that River Island's plus range is only available online.
"I would love for shops on the high street to extend the sizes so you can pop in and try it on," Nadine says, noting that the average Irish woman is a size 16, so it would make sense to offer options for women both above and below that average. "But sometimes it takes a while for people to recognise that there's money to be made there. I love to shop at Dunnes, and now that I'm living in Ireland, I'd like to support Irish designers and represent the place that I'm at.
"My favourite thing, and what I wish I could do all the time, is to have pieces custom-made," she says, gleefully recounting her experience with Irish designer Naomi Aje, who has created bespoke pieces for her - including the dress worn on page 10 today, as well as Nadine's outfit for our cover photo. "When I put them on, I feel incredible."
Nadine pulls styling ideas from all around her, from catwalk trends to her family heritage to old French films. "Growing up, I would always watch my mum get ready. When she'd go to a wedding or a big event, she'd be very stylish," she says. "I grew up watching Dynasty like everyone else, and I loved Alexis Carrington and all of those characters. I also adore the colour and vibrancy that you see in traditional dresses in the west of Africa. I think my style is my Caribbean and African roots meets the chicness of Dynasty and Parisian couture."
An appointment with a personal shopper at Debenhams helped to give her a better understanding of her shape and what colours and materials suited her best. "As you get older, as much as fashion is creative and inspiring, what's really important is how we feel about ourselves. I was a regular-sized kid; it was only during the years when I was a make-up artist and driving too much that I started to put on a lot of weight. But I'm delighted with my size now. I walk more, I get out more, I have more energy than when I used to drive all the time."
Many women online will have some experience of harassment or "trolling", but Nadine says she hasn't encountered any negativity.
"My response to someone, if they said, 'You're fat,' would be, 'Uh, yeah!'" she says, roaring with laughter. "I think if anybody has something negative to say about someone else, what's going on with them? Hun, are you okay? Why do you feel the need to say nasty things to me?
"You never know what health issues someone may have, so I think it's unfair to judge someone. Whatever size you are, you still deserve to put a sparkly dress on and feel flipping fabulous!"
Her advice for bigger women struggling to build confidence? "Spend time on loving who you are as a person. Read things you enjoy reading, have a nice bubble bath, make yourself feel good. At the end of the day, who is judging you, really? I think women of every size could do with a self-esteem boost from time to time. We have to fall in love with who we are as people. I simply won't spend time with people who would even try to make me feel bad. Don't bother with them! Don't allow them to be around you!"
Once one of "the oddballs" at school, now Nadine is a social media star and a rising TV personality, but she says she doesn't think too much about the future.
"There are people who know what they want to do and they follow a structure," she says.
"My biggest successes have happened simply when I've worked hard and enjoyed myself. When I'm asked to do a gig, I ask myself, 'Will I enjoy that?' If I do, great. If I'm asked to do something that doesn't feel so good, maybe that one's not for me. I don't know exactly where these experiences will take me, but my biggest thing at the moment is about enjoying the journey and trying not to worry about the destination," she explains.
"I've come from such a humble place, and I've been surrounded by really great people; I've travelled a lot and seen and done a lot, so I feel very blessed. For me, it's about not letting being a bit fat or a bit black or a bit tall or a bit small stop you from going and doing things."