How a shy Greek girl became an Irish phenomenon
Ironically, Georgia Salpa quit modelling at first because, as a 14-year-old, she didn't like doing bikinis and underwear. When she returned as one of FHM's High Street Honeys at 17, the girl next door with a body to die for still had grave misgivings about underwear work. Nowadays, most of us wouldn't recognise her with her clothes on, but that's mainly because the real Georgia is not what you'd expect. She couldn't speak a word of English when she came to Ireland, and will probably soon give it all up to get married and have kids. Liadan Hynes tells the extraordinary story of how a publicity-shy beauty became a national phenomenon, as Ireland's sweetheart poses for what's surely her sexiest shoot ever. Photography by Kip Carroll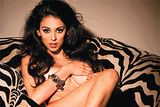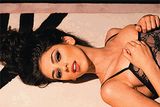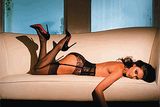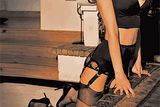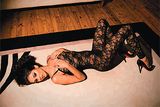 Nowhere else in the world would the simple fact of standing beside a chef in a bikini make you a celebrity. And yet, that's exactly what happened to Ireland's current Model du jour, Georgia Salpa.
The now infamous press call for Food & Wine magazine last August, in which Georgia posed in a bikini beside top chef Neven Maguire, set off a Liveline-led national outrage which ended in an apology on the part of the magazine's publisher.
At the time, Georgia had been back living full-time in Ireland for about six months, after several years spent travelling. Things were going well, but she was still one of a number of girls -- including her good friends Nadia Forde, Sara Kavanagh and former Miss Universe Lynn Kelly -- regularly booked for promotional work.
"I just thought it was ridiculous," the 25-year-old says now. "If I saw girls, even Page Three girls, I wouldn't care. Like the Hunky Dorys ad, they're still moaning about it -- it's just so boring.
"It didn't actually bother me. They asked me to come dressed like a sexy waitress, so I brought a little black skirt and a shirt. And they said to bring a black bikini also. So for the whole shoot I was in my bikini. I think everyone was going mad because they didn't know why I would be," she muses. "And, I mean, why would I be, for no reason, like?"
Why would she be, indeed? By default rather than design, Georgia has become the face of a national conflict, an issue we regularly like to get our knickers in a twist about. Using sex to sell is nothing remotely new, but with the press call, a uniquely Irish phenomenon, we've brought it to its most blatant, most pared-down incarnation: product + semi-naked girl holding it = sales. And then we sit around indulging in orgies of hand wringing, questioning the morality of girls in their bikinis.
On top of that, we elevate these girls to the status of national figures; turn them into household names for the merest triviality, then use them as whipping boys for the triviality, the awful Paris Hilton-isation, of modern society.
Not that any of this is remotely worrying Georgia -- she's far too busy carving out a successful modelling career, thank you very much.
"I think it's so stupid," she says, when I ask her how she feels about criticism of women in their bikinis. "Especially because newspapers and magazines in England or in Greece, they're naked and no one says anything. Here, it's only bikinis, it's not anything. I would never have a problem. And, to be honest, when I'm looking at a newspaper I'd be more looking at the girls. It's really weird," she says of our national sport of agonising over the ethics of women in their underwear.
Becoming the face of a nation's moral dilemma has done nothing to damage her career. Quite the opposite, in fact. Georgia is one of the last full-time Models standing.
While many Irish Models are being forced to take up second jobs -- nightclub hostessing, working in boutiques -- Georgia has proved recession-proof. In fact, this year looks set to be a bigger earner than last. Top promotional Models can earn anything from €300 to €600 for an hour's work, with higher rates for bikini pictures.
"In every generation of Models, which I class as every five years, you'll always get one or two people who are particularly popular with the press," says Georgia's agent Derek Daniels, of Assets Model Agency. "The key to Georgia's success is that she has a lot of natural sex appeal. It's an instant sex appeal that draws attention to a product. She has it in spades . . . there's nobody who even comes close. She is the girl of her generation."
Georgia has promoted everything from phones to fake tan, hotels, burgers, nightclubs, airport transport, fast-food restaurants, clothes, weddings, pizzas, men's grooming products, bookies, cycling, herbal tea, spaghetti, hotel websites, the Lotto, barbecues and wrestling, most of it while wearing a bikini -- she estimates that she owns around a hundred.
There's something fitting about the fact that if anyone was to be the poster girl for our propensity to get our knickers in a twist over girls in their smalls, it was Georgia. Her modelling career was properly launched when she became the only Irish finalist in the first High Street Honeys -- lads' mag FHM's search for the UK's hottest girls -- the idea being that readers send in pictures of their girlfriends, generally not wearing much.
Born in Athens, Georgia lived in Greece for the first four years of her life with her Greek father and Irish mother. Her parents separated when she was four, and, when they arrived in Ireland, the young Georgia and her mother stayed with Georgia's grandparents at first. Sadly, Georgia's grandmother, who always introduced her proudly as "my granddaughter, the Model", passed away just after Georgia did this shoot. Georgia describes her as "the woman I admire most . . . so fabulous".
Georgia counts her mother as her best friend, ringing her at least six times a day, and speaking for up to two hours. In return, her mother collects every single picture that appears of her daughter -- the local newsagent now puts them aside in anticipation of her mum's daily visit. On their return to Ireland, her mum soon remarried. Georgia grew up in Killiney with three step-siblings, and she considers her stepfather, Paddy, who brought her up, her real father.
Her modelling career actually began at the age of 14, when, after being spotted on the street by a talent scout for Select Model Management, Georgia temporarily moved to London to stay with her father, who had since moved there from his native Greece. She didn't enjoy it -- "I went over there and it was actually underwear stuff, but I was so young" -- and returned home after two weeks. "I was more into hanging out with my friends and stuff," she recalls.
On her annual three-month summer holiday in Greece, a 17-year-old Georgia started getting messages out of the blue. "Everyone started saying 'buy FHM, buy FHM', and I was in it! And I was like, 'Oh my God, I can't believe it.'"
The picture, a holiday snap of Georgia wearing a bikini, had been sent in unbeknown to her by her boyfriend of the time -- "So embarrassing," she recalls.
"It was the first one," she recalls of the early days of FHM's competition. "It's gotten real seedy and gross now, real trashy. But when we did it it was real innocent."
As one of the eight finalists in the High Street Honeys, the month and a half leading up to the announcement of the winner involved weekly flights to London for modelling jobs promoting the competition. The work was all underwear and swimwear. "I didn't mind," she says.
Along with her fellow Honeys, she went to the Canary Islands for a week to take part in a Sky One reality show. "It's so embarrassing looking back on it now," she says. "I was really, really young, and I was innocent as well back then."
Capitalising on the situation, or using this modicum of fame to build a career on, just didn't occur to Georgia.
"'Cause I was so young, I wasn't thinking, 'Oh God, I want to be on TV.' I just couldn't believe I was over there, with all this cool stuff, this gorgeous villa. Basically, all we did was just go out for dinner, go out dancing to nightclubs. There was six real bitchy girls, and they were horrible, and then there was me and three other girls that were quiet and didn't really talk," she laughs at the memory. "Kind of like the geeks."
"I wouldn't do it now," she says, "but looking back, I had so much fun."
On returning to Ireland, Georgia joined a Dublin modelling agency. At first, work was lacklustre -- "bits and bobs". That quickly turned around when she scored a Fas advertising campaign.
The ad was an unprecedented success, despite the fact that it saw Georgia styled in a rather nondescript manner as a student in jeans. "She was the girl next door with the body to die for," is how Andrea Roche, who has been something of a mentor to Georgia, sums up her appeal.
"When those [ads] came out it was so weird. Because it wasn't a sexy thing, it wasn't in underwear -- you know, provocative," Georgia herself remembers. "But there were all these forums on internet sites, all these radio stations calling. But no one knew me by my name, they knew me as the Fas girl. So they'd be like, 'We have the Fas girl on the radio.'"
The campaign received such an overwhelming response that Fas ran it for four years, with a reshoot of the identical image every 12 months -- an extravagance maybe not so surprising in light of recent revelations about Fas's rather cavalier attitude to expenditure.
"I did it four years in a row. Same top, same hair, same thing, but a different shoot every year," Georgia recalls. "It was so great for me. I loved it because, basically, for the whole year I went around travelling."
She caught the eye of fellow Assets Model Andrea Roche, who suggested that she enter the Miss Irish Sun competition. "Her body was out of this world," Andrea remembers. "She's stunning, naturally beautiful, and really down to earth."
A photocall for Brown Thomas's underwear department further helped to get things under way. "That was in all the papers and stuff, and after that I just started getting loads of work," Georgia recalls.
Unlike many of her colleagues, who are as much a triumph of hair extensions, fake tan, and make-up as they are genuine beauties, Georgia is naturally gorgeous. "Her look is completely unique from other Irish girls," says Thinkhouse PR account manager Elaine Verdon, who has worked with Georgia extensively on ad campaigns for Lynx. These campaigns have, for the last number of years, favoured a lads' mag style; scoring a gig as a Lynx Minx -- a Lynx brand ambassador -- is a prestigious string to the bow of any aspiring glamour Model.
On the many internet sites dedicated to Georgia, she is often compared to Kim Kardashian, and Georgia jokes that she'd contemplate plastic surgery to achieve a Kardashian-style bum. Plastic surgery is a topic that always arises when you mention Georgia -- more specifically, whether or not she's had breast enlargement surgery. She's a size eight in a dress, and her measurements are 30F, with a 25-inch waist and 35-inch hips.
"People ask me all the time, and ask my friends. Like, my friend works in this office and someone came over to her and said, 'Can you just tell me, are your friend's boobs real?' and I found it a bit weird because, like, I know they are big, but I don't think they look fake. I don't think they look fake at all. But I think sometimes maybe certain bras make them look huge, and they look real fake."
Does it bother her, this speculation over her body?
"Not really. I've seen a few blogs and stuff when people have written, 'Oh, she's got fake boobs.' It's annoying now 'cause it's like, 'Uh, God, they're not.' I'm saying it all the time."
Would she ever consider plastic surgery? "No. Maybe a bit of Botox when I'm older, that's about it."
Nowadays, the majority of her work is press calls; she could do as many as three a week, alongside photo shoots, fashion shows, and appearances on Xpose and Ireland AM. The week we meet, she's already done a shoot that involved dressing as a sexy builder for a skip-hire company, some fashion-related press calls, and the next day she is due to attend the Miss Universe Ireland finals as one of the judges.
Does it ever worry her that she might be stereotyped by her press-call work, and lose out on magazine editorial work?
"I do fashion shows, and I do shoots, and I do Xpose and Ireland AM, and all that kind of stuff," she demurs. "I don't do Image magazine, or high-fashion shows. I do other jobs, but the majority of my jobs would be photocalls," she concedes.
Ironically, the girl who would become synonymous with her work in bikinis suffered from pangs of modesty early on in her career.
"I just really didn't want to, and then after a while I was just like, if you have a niche, you probably should just go for it. When I'm in a bikini or at a photo shoot, I'm real confident. But if I'm in a group of people I don't know, I'm really quiet. But the past few months I think I've come out of my shell a little bit -- I used to be so shy. Lately I've been much more confident.
"It's very hard when you do photocalls. You have to be on time, you have to be all cheesy smiles and have your hair and make-up done, and be into it. It's not like a photo shoot, you have to really put the cheese factor in. I think you have to be more willing to go for it."
"Fundamentally, she delivers," says Ken Robertson, communications manager for Paddy Power, one of Georgia's longest-standing clients. "Anytime we would use Georgia, nine times out of 10, the pictures end up in the paper. She's got a high profile at the moment," he says, but he puts her success down to more than just that. "She's a really, really lovely girl. Word gets around quite fast. Clients like her, photo desks like her, obviously the public likes her."
Elaine Verdon agrees: "You're guaranteed a picture will land by using Georgia."
While the top girls could do up to three press calls a week, with the summer and the run-up to Christmas being the busiest periods, it is unreliable work.
"It's a bit scary, but I find it good -- it keeps you on your toes. You don't know what you're doing next week," she says.
The flavour-of-the-month position is a post that has previously been occupied by Sara Kavanagh, Nadia Forde, and Katy French, among others. Does Georgia worry about being yesterday's girl?
"If people get bored of me, I hope there'll be something else I can do. I'm not gonna get really upset if people don't like me anymore."
With Georgia, you get the feeling she might actually be telling the truth. Unusually for someone in her line of work, she has little interest in building her brand, launching a blog, tweeting, or engaging in a relentless Facebook campaign to keep herself fixed permanently in her public's mind. Her Facebook page is private, and, apart from the odd appearance, she has yet to start angling for a television career.
"There are a lot of Models who'll orchestrate their own success to get into the paper," says Brian McEvoy, a photographer who acts as a sort of kingmaker to press-call girls, with the ability to push a certain girl's career. "It decreases their value as a PR Model. Georgia doesn't parade herself. Therefore people are interested in her."
"As press-call girls go, she's not a party person," Derek Daniels says. "You won't see her out at clubs. She stands apart in that respect. She is not a part of the scene at all."
In fact, if you see Georgia out at a nightclub, chances are she's getting paid. "Sometimes, like, not very often," she murmurs modestly, when I ask whether she is often hired to attend a nightclub. "You just go down to the nightclub, have a few drinks, have a dance with everyone, chat to your friends." Exactly how long she stays at the venue is agreed in advance through the agency. Luckily, she's normally paired with Nadia for these jobs -- "It's great, we're just getting paid to go out."
"Georgia is totally different from all the other girls," says McEvoy. "There are so many other girls out there throwing themselves at every paparazzi photographer, trying to be famous. She doesn't do that at all. She doesn't mix on the celebrity circuit, she keeps her private life private."
"I think it's a good thing," says Andrea Roche of Georgia's avoidance of the social scene which so often goes hand in hand with
an Irish Model's line of work. "I think she was in Lillie's for the first time a few months ago. Once you step into that world it's hard to step out of it. She's the most photographed woman in Ireland and yet she's not pictured in the social diaries."
"I wouldn't really find it difficult," Georgia herself says of being an increasingly high-profile personality, "because I wouldn't really put my whole personal life on show. I wouldn't be always out, and letting people know what I'm doing. You won't really see me at any events, any nightclubs."
Georgia and her boyfriend, DJ Barry O'Brien, with whom she's been living for six months, keep a low profile. Lately she's started getting recognised when she's out, normally by people asking to get their picture taken with her, which, she says, she finds "really weird" -- her tone suggests she can't quite understand why anyone would be interested. "A few creeps on Facebook. Nothing bad when I'm out. Normally it's just, 'Hey, Georgia, nice picture'," she says.
A few nights before we meet, she and Barry were walking up Henry Street when, out of nowhere, a man approached, mumbling, and gesturing towards them. "I was like, 'He is looking at us, keep on walking, I don't know what he's looking at.' And then he just came out of nowhere with this little pen. But we thought it was a knife. And I was like, 'Oh my God, he's gonna mug us, just keep walking,'" she gasps in a terrified voice. "And he was like," adopting a deep, booming voice, "'Write your name on me arm'. And I was like, 'No, no, just don't take anything'," she gasps. "And he was like, 'Will ye write your name on me arm?' And then finally I heard it, so I wrote my name on his arm . . . I thought he was trying to attack us, I didn't know what was going on."
It's typical of Georgia that the idea that the man was a fan who recognised her would be the last thing to occur to her.
"People always expect me to look like a dolly bird when I'm out. One girl said to me, 'Oh my God, you're actually nice.' I think when people see you out there and that, in your underwear, they expect you to be real brassy. But I wouldn't be like that at all. I don't think, anyway."
The nature of the world she works in is inherently ephemeral. "It will happen," says Derek, referring to the inevitability of Georgia eventually being replaced by another girl. "There's a certain lifespan. The hard thing about modelling is that you can be Georgia Salpa one day and nobody the next."
She doesn't really worry about the future. "I haven't really thought about it. If I do something else it'll probably be completely different. I don't know if I'd wanna be in the limelight."
Is she ambitious? "I am and I'm not. I like doing well, and I like working, but I wouldn't be like, real mad, crazy like."
"I doubt she will continue with anything showbiz at all," says Derek, before going on to predict that she will eventually marry and have children. It's exactly what Georgia herself says she would like, citing her own family as an example of what she'd like to recreate. Not anytime in the near future, though.
"I think it's better over here than in other countries," she says of the notoriously limited shelf-life for Models. "You could work here, I'd say, into your 30s."
Both Derek and Andrea cite Georgia's recent successful appearance on The Podge and Rodge Show as evidence that, if she wanted it, a television career would be a natural progression for her. "She's a natural on the screen. Every male I know would tune in," Andrea points out, adding, "if I was Georgia I would definitely be looking to break into TV."
For now, she seems happy to enjoy her extended 15 minutes, but the prospect of new girls coming up behind her always looms. "The market has changed," says Assets boss Derek. "Ten years ago, there wasn't a press-call market." Now, he says, there are new girls coming into them all the time who are only interested in promotional work.
"Make the most of the contacts you've made in the media world. Always be planning ahead," says Andrea Roche. "There's only so much money to be made. Only so many promotions you can do before you get sick of them."
It would be a safe bet to say Georgia will get sick of us before we get sick of her.
L
American Apparel, 114 Grafton St, D2, tel: (01) 633-6953
Design Centre, Powerscourt Townhouse Centre, 59 Sth William St,D2, tel: (01) 679-5718
Susan Hunter, Westbury Mall, D2, tel: (01) 679-1271
Photography by Kip Carroll
Assisted by Ciara O'Connor
Styling by Liadan Hynes
Assisted by Jessica Gaffney
Make-up by Vivien Pomeroy for Brown Sugar, 50 Sth William St, D2, tel: (01) 616-9967, or see www.brownsugar.ie
Hair by Paul Davey for DaveyDavey, tel: (087) 417-3504 or email daveyanddavey@yahoo.co.uk
LIFE would like to thank Marion Cunningham and her family