Yes! Zac Efron finally gets to meet Olympic superstar Simone Biles and it's glorious
Zac Efron finally got to meet Simone Biles after the Rio supestar secured her fourth Olympic gold medal.
The actor made Olympic audiences green with envy when he got the chance to meet the US gymnast Wednesday night... sure it's not every day a person gets to meet an actual living sporting legend.
Biles - who been widely hailed as the most talented gymnast in history - is a huge fan of Efron's too and first revealed her crush on him during an appearance on the Ellen DeGeneres show back in March.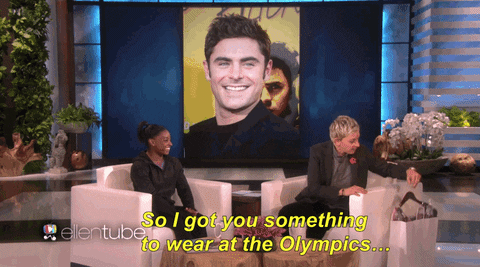 Efron has since been tweeting his support of the US women's gymnastics team throughout the games.
And the budding friendship between the two superstars reached a climatic moment on Tuesday.
After tweeting that he was supporting the #FinalFive, the High School Musical star decided to head to Rio for a special surprise meeting with the girl who just cemented her status as an American Olympic legend.
As Biles secured her much-deserved fourth Olympic gold medal (her fifth of the competition after bagging a bronze on Monday), Efron arrived to meet the gymnast and congratulate her in person.
The calm and collected Biles stayed true to form when meeting her crush but later in a Facebook Live chat with her teammates, she jokingly revealed that she was already planning their wedding.
The overjoyed 19-year-old then took to social media with a flurry of tweets to describe how chuffed she was to meet the actor... but we bet she was still reeling from the high of her incredible Rio journey.
A recap of her Rio 2016 wins: Gold for Women's Vault, Team All-Round, Floor Exercise, Individual All-Round and bronze for Beam.
Legend!
Online Editors
Follow @Indo_Style_