Keira Knightley announces second pregnancy in the most glamorous fashion in Paris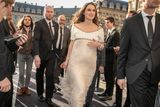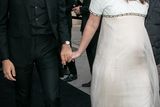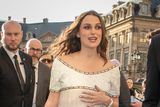 Keira Knightley made a surprise pregnancy announcement at a Chanel cocktail party in Paris.
The Nutcracker star (34) was one of the VIP guests at the J12 cocktail party, in conjunction with her ongoing brand ambassador with the French fashion house. She arrived in true Hollywood style in a  a billowing silk white ankle length dress and studded silver heels; not unlike the show-stopping announcement Blake Lively and Ryan Reynolds made with their baby news the same night thousands of miles away in New York City
Keira and husband of six years James Righton are already parents to daughter Edie (four) and Keira has been vocal in the new light in which she sees women since experiencing pregnancy and birth. In particular, she wrote an essay last year criticising the expectation put on Kate Middleton, who appeared at a photocall in full hair and makeup, wearing a pair of heels just hours after giving birth.
"She was out of hospital seven hours later with her face made up and high heels on. The face the world wants to see. Hide," she wrote.
"Hide our pain, our bodies splitting, our breasts leaking, our hormones raging. Look beautiful, look stylish, don't show your battleground, Kate. Seven hours after your fight with life and death, seven hours after your body breaks open, and bloody, screaming life comes out. Don't show. Don't tell."
Since welcoming her daughter in 2015, she said she hopes for more women to be more forthright in the challenges they face and appealed towards a more compassionate system which accommodates new mothers in need of support.
"I don't think we give women enough credit for the physical and emotional marathon they go through when becoming a mother," she said. "I come from a place of amazing privilege. I have an incredible support system; I've been unbelievably lucky in my career; I can afford good childcare… and yet I still find it really difficult," she told Balance magazine.
"It's OK to say that. It doesn't mean I don't love my kid, it's just me admitting that the sleep deprivation, the hormonal changes, the shift in relationship with my partner, are all things that make me feel as if I'm failing on a daily basis. I have to remind myself that I haven't failed, I'm just doing what I can do, but it's not easy."