Keep it classy Amy...'Sound' Schumer gets the dollars out in Doheny's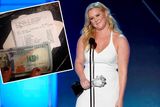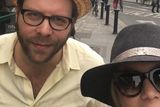 Working on a Friday night is a tough gig - not least for a waitress at a popular Dublin city pub.
But this lass was delighted she was scheduled on the roster for the busiest night of the week at popular Doheny & Nesbitts.
Because comedian Amy Schumer decided to stop by and be "sound" by leaving a very generous $100 tip.
The New Yorker (35) was in town for a gig at the 3Arena last night with her Amy Schumer Live tour, bringing her brother Jason Stein along for the ride.
Schumer shared an Instagram snap of the two outside Peter's Pub on South William Street.
And it seems they worked up a bit of an appetite ahead of her comedy show - putting away four main courses between them.
Last year when Schumer visited the capital - to promote Trainwreck alongside Judd Apatow - she managed to grab a few pints of Guinness with Frames' frontman Glen Hansard.
Keep it classy Amy.