Kate Middleton is giving Meghan Markle royal fashion advice - including paying homage to Princess Diana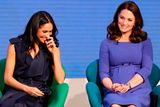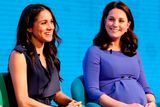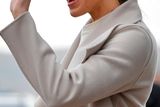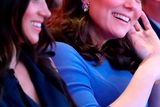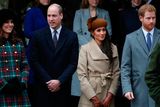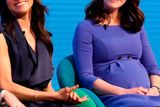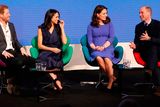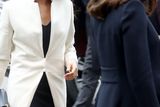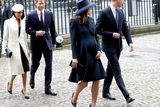 Meghan Markle has been getting royal advice from Kate Middleton.
The 36-year-old former actress will become sister-in-law to the royal when she marries fiancé Prince Harry in May this year, and the pair are already getting along as it has been claimed that Catherine is helping Meghan learn about "royal fashion" ahead of her life as a member of the royal family.
A source said: "[Duchess Catherine] has also been advising Meghan about royal fashion, what protocol is expected and how she may have to adapt in the future. She has provided Meghan with names of some of the favourite UK go-to designers on everything from dresses, coats and the all-important British hat."
The former 'Suits' actress is also reportedly set to follow in the footsteps of Catherine - who has four-year-old son Prince George and two-year-old daughter Princess Charlotte, as well as expecting her third child with husband Prince William - when it comes to echoing the fashion sense of Harry and William's late mother Princess Diana, who died in a car crash in 1997.
The source added to 'Entertainment Tonight': "Like Kate, expect Meghan to make the occasional nod to her husband's fashion icon mother. Both Kate and Meghan will no doubt honour Princess Diana with designs that reflect her likes and style."
It comes after it was claimed Meghan was undergoing royal etiquette lessons in preparation for her marriage to the 33-year-old flame-haired royal.
A source said: "Meghan is on a crash course with a trusted coach used by the royals.
"First on the list is silver service - she must be able to tell a fish knife from her butter knife, know how to handle seafood, drink soup and so on.
"There'll be no stone unturned as in less than 12 weeks all eyes will be on her - there is no room for error."
And it was also claimed the actress will be taking elocution lessons to soften her American accent.
The source added: "Elocution lessons will also feature. Meghan's American twang will be softened and toned down. But more essential is her switching to British terminology - she simply cannot be 'taking out the trash' and 'wearing pants'."