Jennifer Maguire: 'I only realised I was pregnant on first day of my honeymoon'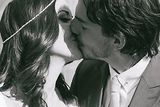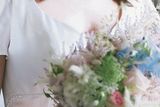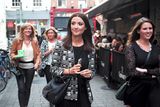 She can't wait to become a mum, but broadcaster Jennifer Maguire admitted she was shocked when she discovered she's pregnant.
The Republic of Telly star announced yesterday that she and husband of three months Lau Zamparelli are expecting their first child.
The 34-year-old and her long-term partner said 'I Do' in front of just 70 close friends and family at the exclusive Castle Leslie Hotel in Monaghan on July 1.
The newlyweds then jetted off for their three-week romantic honeymoon break in the Seychelles.
Dubliner Jen told the Herald she had "no idea" walking up the aisle she was 'with child', and that the couple figured it out when they arrived at the beach-side resort.
"We found out on day one of the honeymoon, literally when we just got there, so I couldn't go to the restaurants or sit on the beach with the heat," she said.
"It was a shame because we got two flights over and flew all that way and you're expecting it to be amazing.
"We're together eight years and there's never really a right time to start a family - we're both so thrilled.
"Lau will be a great dad and he's so excited," she added.
RTE presenter Jen admitted the past few months have been difficult.
"I'm past the sick stage thank God, but there are still moments of feeling rough. It was horrible for the first three months, just horrific," she said.
And the brunette admitted to feeling particularly sorry for her husband.
"I was always worse in the evening and that's obviously when Lau gets home, so I was in the worst humour ever, the poor guy," she said.
"I've actually come to the conclusion that women are liars - you feel crap - and I'm going to keep a journal so later on I can remind myself how bad it was when considering another baby," she laughed.
Jen opted out of filming another season of The Fear during the summer due to her pregnancy news.
"I couldn't do it this year because of the schedule. I don't want to be taking on too much," she said.
The 2FM host is also hoping to be back at work shortly after giving birth next March.
"I'm not going to take the six months - I'll try get back as soon as I'm feeling up to it."