'I know people think I'm a bit mad but it's great fun!' - we meet those flying the Irish flag at Britain's royal wedding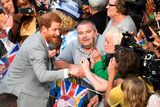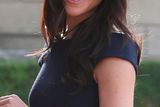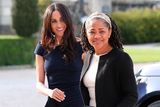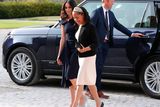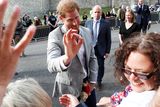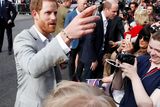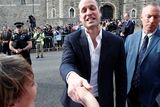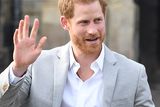 Caitlin McBride in Windsor
The Irish really are everywhere and the royal wedding is no exception.
Thousands of royal fans from around the world have descended on Windsor in the hopes of catching a glimpse of Britain's Prince Harry and Meghan Markle on their wedding day, and a number of Irish are among the well-wishers cheering the happy couple on.
Geraldine Greely from Co Roscommon is flying over to London to be part of the festivities. Ms Greely told Independent.ie that she has been a royal follower since she was a teenager, following in her mother's footsteps, who lived in the UK in the 1960s.
She will be travelling from Surrey with cousins before 5am to nab a prime viewing place on Saturday morning.
"I know people think I'm a bit mad but I got cheap flights and free accommodation so why not, it's a bit of fun," she told independent.ie.
"I work as a marketing manager at the Abbey Hotel in Roscommon and over the last two months, all our brides have been talking about Meghan Markle.
"There's something very genuine about Meghan and Harry, they seem much more relaxed together than Kate and William. I think they're a match made in heaven."
As far as the guestlist is concerned, Irish golfer Rory McIlroy is rumoured to be attending alongside his wife Erica Stoll after striking up a friendship with Meghan in 2014. It was rumoured they were dating at the time, but Independent.ie revealed that she was already in a relationship with Canadian chef Cory Vitiello.
Irish milliner Philip Treacy's work is expected to be worn by a number of high profile royals - the Galway designer famously created Princesses Beatrice and Eugenie's eye-catching hats when Kate Middleton wed Prince William in 2011.
A representative for the designer did not respond to requests for interview.
The late Princess Diana's influence can be felt by many, in particular among the American visitors, who were captivated by the pomp and circumstance of royal weddings after she wed Prince Charles in 1981.
Melissa Sirek and her husband Alex travelled from Orlando, Florida, to support the American actress on her big day.
"I've been fascinated by the royals since the days of Princess Diana. I was 14 when she married Prince Charles. These are her sons and it's cool to see them happy and so in love," Melissa said.
"You can see there's real love and affection between Harry and Meghan, he's 33 and she's 36, they're not young like Diana and Charles. It's a real life fairytale."
Royal watchers have begun camping out along the Long Walk, the dramatic two-mile entrance to the main gates of Windsor Castle, a route which Meghan and Harry will travel on after exchanging vows tomorrow.
An estimated 100,000 people will visit this picturesque town on Saturday and the truly dedicated fans have been setting up camp already, armed with sandwiches, water and of course, Pimm's.
And the more dramatic your costume, the better.
Celebrity sightings are aplenty with Meghan's Suits co-stars Sarah Rafferty, Gina Torres and Rick Hoffman were earlier spotted with fans, as we as E!'s Giuliana Rancic.
By far the biggest buzz of the day was Harry and William's impromptu walkabout to greet early well wishers around the castle.
In contrast to the earlier civility, it was elbows out in order to get the perfect shot as close as possible.
My favourite part was the three British teenagers behind me, whose commentary included, "Why are they screaming? It's not One Direction."
Followed by, "Now that Ant and Dec have split, they are all we have left."
And this was just the dress rehearsal.