First look: Jodi Albert is one of the girls as she makes debut on TV3's 'Xpose' this evening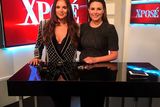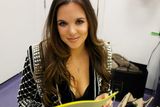 This TV presenting lark seems to suit actress Jodi Albert.
The former Hollyoaks actress, singer and busy mum-of-two can now add another string to her bow as she took to presenting Xpose on TV3 this evening.
Jodi, who is married to Westlife star Kian Egan, joined forces with Lisa Cannon before tonight's instalment aired.
And there were no signs of any nerves for Jodi as she gamely posed for pictures in the make-up room and on set.
If this gig goes well - and there's no doubt it will - Jodi's appearance could turn into something more permanent.
Speaking of Jodi's stint this week, a TV3 spokesperson said: "We're looking forward very much to having Jodi in as a guest presenter on Xpose. We're a big fan of Jodi's and she's great fun so she'll fit right in with the gang."
She has also insisted it will be business as usual for the hit TV show, despite the fact that two of its five main presenters are going off on maternity leave in a few months time.
Aisling O'Loughlin will be giving birth to her third baby with photographer Nicholas MacInnes next May while Karen Koster is due to have her second baby with husband John McGuire early in the new year.
The TV3 spokeswoman said that was all par for the course, given that all of its presenters have long-term partners and it was expected they would be starting families at some stage.
"We were fully expecting to be in this position and someone will have to step in when they go on maternity leave but we're not ready to announce anything just yet," she added.
"Xpose is a branded show and is a very successful format. It's been running at least eight years now and is doing great. It will carry on regardless."
Screen testing is due to start shortly as programme bosses begin the search for replacement presenters to fill the shoes of O'Loughlin and Koster as the station casts its net far and wide trawling for fresh talent.
The showbiz show has been using several different guest presenters in a recent weeks, including TV star and former model Ruth O'Neill as well as I'm a Celebrity star Nadia Forde.
Read more here: