Beyonce 'loses 15lbs on Master Cleanse' which replaces food with lemonade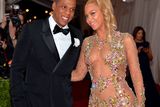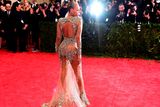 Independent.ie Newsdesk and Agencies
Beyoncé Knowles has reportedly turned to the Master Cleanse diet again in a bid to slim down.
The 33-year-old star famously used the controversial plan to drop over 20lbs. in a fortnight when she was working on 2006 movie Dreamgirls. It sees followers surviving on a mixture of lemon juice, maple syrup, cayenne pepper and water drinks and has been criticised by medical professionals for being unhealthy.
However, it's claimed Beyoncé once again turned to it to ensure her body looked perfect in the barely-there gown she wore to the Met Gala earlier this month.
Read more:
"Beyoncé's... been doing the Master Cleanse diet she's used before - she hasn't forgotten that it gets results when it matters. This time, she lost over a stone - 15lbs. in total. When Bey puts her mind to it, nothing can stop her," an insider told British magazine Heat.
The star stunned with her nude dress at the prestigious fashion event. It was designed by Givenchy and featured mostly mesh, with some strategically-placed gems covering her modesty.
It's thought this was the star's way of detracting attention from last year's gala, which is where her sister Solange was caught on camera punching and kicking Beyoncé's husband Jay Z. The family have put the incident behind them but none of them have confirmed what the altercation was about.
Read more:
The singer is said to have been determined to look her best this year, so has been working out for two hours a day with her trainer.
"Beyoncé is almost always on some kind of diet," the source claimed. "The thing is, she can really eat and she loves food, so she really watches her weight. She's been really strict for the last month - no carbs and mostly vegan with just the occasional protein cheat."