Timeline: An in-depth look at the history of the Harry vs William feud rumours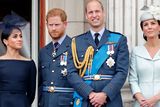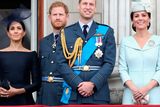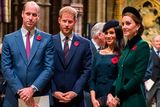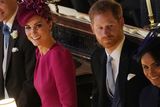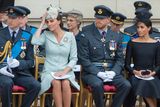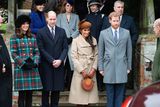 It seems like only yesterday we were all sitting as comfortable armchair observers, excitedly looking ahead as the British monarchy was finally corralled into the 21st century.
After more than 10 years of positive press, earned through the painstaking efforts of Queen Elizabeth and even Prince Charles, the next generation is seemingly imploding with persistent rumours of backbiting and growing tension between its two most popular heirs: Prince William and Prince Harry.
It's a story that has it all: rumours of in-fighting, potential banishment to Africa, late night phone calls from Kensington Palace to newspapers, legal letters to block publication of unfavourable articles, rumours of planting stories about a rival to court more positive PR for yourself and a Hollywood actress-turned-duchess taking the brunt of the backlash. The fact that this is all taking place behind the gates of palaces and castles only adds to the intrigue and confirms the royal family's status as the longest-serving real life soap opera.
It seems to have gone downhill fast, but where did it all begin?
November 2017
Prince Harry announced that he and girlfriend of one year Meghan Markle, an American actress, would be getting married.
It was also the beginning of Harry 2.0 - he had evolved from the mischievous party boy image that followed him for so many years and instead, he was a family man to-be, in love with a biracial American that came with her own impressive credentials. Her influence on him would be well-documented over time, with claims that he gave up alcohol and cigarettes for her and turned to daily yoga sessions and also began working out more at the gym. This newfound commitment to his health has been portrayed as the extension of an overbearing woman and not that of a man who has a new reason to live a long and healthy life.
At the time, the royals were universally praised for welcoming Meghan with open arms. Queen Elizabeth - and her famously fickle corgis - loved her, as did Charles, William and Kate.
March 2018
Meghan was successfully integrating herself into her new life as a royal-to-be and forming solid relationships with her future in-laws. At the time, Vanity Fair reporter Katie Nicholl wrote the first inkling that Meghan and Kate weren't the bosom buddies that some outlets had portrayed them, but they were by no means feuding.
"You know they're neighbours in Kensington Palace, and I know that Meghan enjoys going over to see Kate and the children, and she does enjoy that. I'm told there's always an open invitation for her to be with Kate ever when she wants," a source said. "I think that any animosity is probably a fabrication in the press. I've never heard to suggest that they don't get along." Kate missed Meghan's bridal shower at Soho Farmhouse, but given she was nearly nine months pregnant at the time, there were no doubts as to why.
May 2018
In the run-up to their Windsor wedding, the public perception of Meghan began to change drastically. Perhaps it was because the couple had been together for such a short time, she didn't experience the type of intense over-inspection of her life that his previous girlfriends had, but there was a notable shift in tone in how she was described.
Andrew Morton's biography A Hollywood Princess had a few juicy tidbits - like the fact that she left her first husband after her career took off and returned her wedding rings in the post - but it lacked the punch it promised. It did however state that Princess Diana was her childhood idol, in contrast to her engagement interview and was proof enough for some that she was duplicitous.
After their wedding, Meghan took a lot of heat for just about everything she did: what she wore, how she wore it, her hair, her shoes, her tights, the way she held her baby bump or the way she looked at her husband.
July 2018
It was extensively reported, once again kick-started by Nicholl, that Meghan was leaning on Kate for her expertise as her father Thomas Markle had begun his publicity tour of publicly bashing his daughter. Kate remains uniquely placed in understanding exactly what Meghan is going through - coming from a relatively normal background and marrying into arguably the most famous family in the world, where every aspect of your life becomes gossip fodder.
"They speak on the phone and Kate makes a point of inviting Meghan over," the source said. "Kate's really busy juggling three kids; she has a lot on her plate and she has her own friendship group, but she has made an effort with Meghan. She's been very sympathetic to what's been going on with Meghan and her dad."
The Sunday Times reports that Meghan and Harry would be formally splitting their work from the Kensington Palace umbrella, under which Harry had always worked in conjunction with his brother and sister-in-law. The piece said that the brothers have a "gulf in style and approach to the style of work" that's expected of them.
Their roles were changing clearly in that William is being primed for an imminent promotion to the Prince of Wales, whereas Harry is more at sea as he has been pushed further down the line of succession.
November 2018
After a few months of relative calm, reports of a rift between Meghan and Kate gather steam, which was in part facilitated by the accepted narrative that Meghan was a diva, bringing her Hollywood demands to the palace. A number of sources and insiders endorsed this depiction, prompted by a particular report in The Sun, which claimed that Meghan threw a tantrum when she wasn't granted her first choice tiara on her wedding day.
Queen Elizabeth must approve all loans from the family vault (as well as any bride's dress), but the origins of Meghan's first choice could not be identified and so, to err on the side of caution, she was reportedly given her second option. This moved Harry to say, "What Meghan wants, Meghan gets", which in turn caused his grandmother to have a word with him and bring him back down to earth.
A few weeks later, The Sun ran a story that Meghan made Kate Middleton, just a few weeks after giving birth, cry over a row over Princess Charlotte's bridesmaid dress. Buckingham Palace issued a rare statement denying the claim, saying, "This never happened."
By the middle of the month, three staff members working for the Sussexes had announced their intention to leave sending the press into a frenzy about what was really going on behind the gates at Kensington Palace. Kate was also said to have confronted Meghan about the way she spoke to her staff
Harry and Meghan also confirmed their plans to move to Windsor for a quieter life where they will raise their child.
December 2018
A new report had been doing the rounds, claiming that the tensions could be traced back to the royal brothers. Before Harry proposed, his brother is said to have sat him down to discuss how serious his relationship was becoming with Meghan.
"William told his brother they knew nothing about her background, her intentions, what she was really like," a source told The Sun.
"He just wanted to stress that becoming part of the royal family is a massive undertaking and the pressure and scrutiny is unrelenting. Was Meghan the right one?" Harry reportedly "went mental" and accused his brother of sabotage.
A few weeks later, however, the couples took advantage of their annual photo op on Christmas Day to end the speculation about the status of their friendships. Meghan and Kate were placed side by side to demonstrate just how fine everything was between them. It did the trick. However, reports soon emerged that the tensions actually remained with Harry and William and the attention was wrongly placed on their wives.
March 2019
Tatler magazine's 'One year of Meghanomania' was enough to fuel the tabloid news cycle for a few days, asserting that Harry has essentially cut off his closest friends who expressed disapproval or doubt over his wife and how quickly their relationship was moving; most notably Tom 'Skippy' Inskip with whom he has been close for 20 years. Inskip wasn't invited to the exclusive after-after party of Harry's wedding as a result. At his own nuptials in 2017 in Jamaica, Harry took the opportunity to introduce his new girlfriend to his closest friends.
"Hang out with the Clooney/Beckham/Soho House set and be assailed for being too Hollywood, for forcing your hen-pecked husband to abandon his old, country-set muckers - including Tom "Skippy" Inskip," the piece read, adding "the ultra-loyal, tight-lipped Harry pal, who, it's said, advised Harry not to marry Meghan and has paid the price: banishment."
The piece also reveals that Prince Charles is particularly taken with his new daughter-in-law and both he and Harry credit her for strengthening their father-son bond.
April 2019
Reports begin to circulate that Kate is feuding with Rose Hanbury, the Marchioness of Cholmondeley, a former model who lives near the Cambridge's Amner Hall estate in Norfolk. The timing of these reports is intriguing, not only because it's uncharacteristic over the course of Kate's 16 years in public life, but also the suggestion they were spread to damage her reputation.
William and Rose's husband David Rocksavage, were said to be "baffled" by the reports and haven't been able to identify the source, but have been quick to dismiss them as anything more than "hurtful rumours" and are "simply false".
"This is a question of a lie going round the world before the truth has even had time to take its boots off," a source said.
Meghan and Harry officially move their work under the Buckingham Palace umbrella, leaving Kensington Palace to focus exclusively on William, Kate and their three children Prince George (five), Princess Charlotte (three) and Prince Louis (one).
April 2019
The Times, breaks yet another major scoop re the ongoing deliberations between the Sussexes and the Cambriges: plans are being made to move Harry and Meghan to Africa in a bespoke role which would capitalise on their "rock star" status while encouraging their duties in the Commonwealth. The timing in particular was odd given that Meghan is just weeks (or days) away from delivering her first child - a time when potentially upsetting leaks are usually put aside - and that the decision won't be made until 2020 as it stands.
Palace officials are said to be struggling what exactly Harry's role will be in the monarchy and are hoping to coordinate efforts with him to satiate his ambitions, while also keeping him as a top tier member of 'The Firm'.
The palace didn't deny the claims and released a statement, saying: "Any future plans for The Duke and Duchess are speculative at his stage. No decisions have been taken about future roles."
Easter 2019
We need your consent to load this Social Media content. We use a number of different Social Media outlets to manage extra content that can set cookies on your device and collect data about your activity.
Harry makes a surprise appearance at the Easter Sunday church service at St George's Chapel at Windsor Castle, which also falls on his grandmother's 93rd birthday. While Harry and William have traditionally arrived at public events together, many were quick to note the lengths the brothers went to in order to avoid being near one another. Feud watch continues.