Kirsty at Large: 'It' girls are more than parties, privilege and a tragic demise'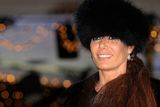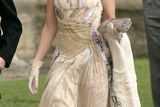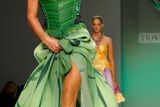 When Clara Bow sauntered on to the silver screen in 1927 film It, all lick-spit curls and bee-stung lips, she was everything 1920s gals wanted to be.
She was, in a word, sex.
She may not have been glamorous in the conventional sense — playing the part of a department store clerk — but she was wide-eyed, sexy and perky.
At that moment she was the female embodiment of the 1920s zeitgeist. Sitting right at the top of every 'What's Hot' list alongside Charleston dance moves and cloche hats.
While Clara is seen as the original 'It Girl', the term was first used by Rudyard Kipling in his 1904 short story Mrs Bathurst.
"Tisn't beauty, so to speak," he wrote. "It just is it. Some women'll stay in a man's memory once they walk down the street."
Since then It Girls have continued to crowd gossip columns; from Mae West, and Jean Harlow to Marianne Faithful, Julie Christie and the late, lamented TPT.
In Britain, It Girls tend to be associated with parties and privilege.
In the 1930s the term 'celebutante' was used to describe well-heeled ladies known for attending riotous shindigs.
Evelyn Waugh dubbed them "bright young things".
In the aftermath of World War II, these 'society gals' became bigger news still — offering a little glitz after all that war time rationing.
A new breed of It Girl emerged in the 1990s. Tara Palmer-Tomkinson was the ring leader of the 'toffs about town' brigade.
Her weekly Sunday Times column, which she said she "lived" rather than wrote, was filled with salacious snippets of a gilded life style. She was funny, self deprecating, and a lot smarter than she was often portrayed in the tabloid press. She once described herself as "a broad with a broad mind".
In the nineties, TPT appeared to possess a cornucopia of confidence — remember when she showed up to her 27th birthday party in a bikini, fur coat and snorkel? Iconic.
Turns out her confidence was bolstered by a £400-a-day cocaine habit and soon things began to unravel.
"After a year or two something changed," TPT's former editor Jeremy Langmead said. "Tara was lost."
She eventually kicked her drug habit and her life seemed to be calming down in recent years.
So her death, at the age of 45, came as a shock.
She was remembered by those who knew her for her kindness, vulnerability and compassion.
When Langmead paid tribute to her he said "her talents never got to shine quite as brightly as her Versace dresses in her 1990s heyday".
I hate that statement and would like to think it's untrue.
It fits all too easily into the predictable narrative of the tragic party girl. We like that-story arc — that the traits that built them up, also brought them down.
It's something of which TPT was no doubt well aware.
In a column in The Spectator she wrote: "The archetype of the dim society girl is everlasting. Whether she is Daisy in The Great Gatsby or this year's gossip-column fodder, the accusations rarely change.
"Like urban myths, they recur generation after generation, attached to one unfortunate female after another," she added.
We like pushing people into these roles partially because we're still fascinated by the dichotomy at the core of being 'It'.
Elinor Glyn, who wrote about 'It' way back in the 1920s, said It Girls "must be entirely unselfconscious... indifferent to the effect she is producing. Self-consciousness destroys 'It' immediately."
It seems the minute you figure out that you've got it, you've lost it. Talk about a headf**k. Perhaps that's why the original It Girl Clara Bow said the title was "a heavy load to carry — especially when one is tired, hurt and bewildered."
Why sex and chocolate do not a happy marriage make
Perhaps it was the run up to Valentines Day or Dawn French's TV series Delicious but recently I have been thinking a lot about sex and food.
And how people (well, advertising agencies) seem to think the two are inextricably linked.
This week, I was sent a pint of melted ice cream with a note informing me that most Irish men and women would like to spend V-Day eating a gallon of the stuff before getting down to business.
Really? Would anyone — aside from those weird feeders on TLC documentaries — find this appealing?
Meanwhile, Valentine's Day themed photoshoots featuring lingerie models posing with strawberries landed in magazines.
Okay, I get that eating and shagging are both sensual acts but I can't believe that people find food this much of an aphrodisiac.
Personally speaking, I have never, in my life, thought "Oooooooh I'd murder a bag of Revels right now!" while having sex.
Aside from the fact that it unnecessarily complicates things, and would ruin a perfectly good set of sheets, surely doing this would spoil food for you, forever.
Any time you saw someone with a punnet of strawberries you'd be thinking, "I know where I last saw those".
The bombardment of Valentine's Day ad campaigns left me so perplexed that this week, I found myself turning to lifestyle guru Gwyneth Paltrow for help. Yes, that's how desperate I felt.
And what does Gwynnie recommend we invest in on February 14? Why vegan, fair trade condoms of course.
She also recommended splashing out on 'sex dust', a Tiffany harmonica (control yourselves), a €200 champagne napkin set (what?) or a €346 gold-plated necklace in the shape of a man's arse (wait a minute.)
Thankfully, Gwyneth's unique brand of cosmic wisdom and questionable sanity brought me back to reality with a jolt.
The PR guff lifted, and I concluded that anything associated with Valentines day — solitary roses, caramel hearts, ice cream, or gold plated arses — are the antithesis of sexiness and romance.
This year, I hope you did the smart thing and invested in a decent bottle of gin.
TOPS:
Kylie vs Kylie™
Kylie Jenner, who once claimed she "started wigs", lost her petition to have the name trademarked. Thus Ms Minogue reigns supreme.
Miriam O'Callaghan in Vegas
So much fun.
FLOPS:
Po faced Des Cahill
Last weekend's tango was a snorefest. More gimmicks please.
'The Donald' in the bathrobe
Can't be unseen.
SAY WHAT?
'Sure I wouldn't know a TD if I came across them in the street'
Star of the Gaiety Theatre's production of The Successful TD, Mary McEvoy, admits politics aren't her forte.