In Quotes: Kate Middleton and Prince William on George, Charlotte, parenting and their new baby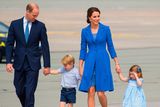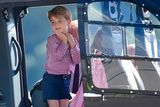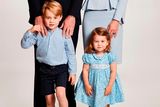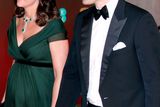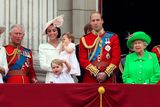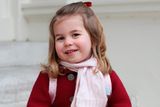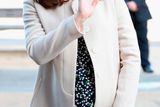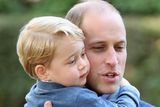 The Duke and Duchess of Cambridge have opened up about both the rewards of parenthood and the challenges it brings.
Focusing much of her charity work on children's mental health and the importance of early intervention, Kate has spoken of how the people she has met have influenced her role as a mother.
From Prince George's attempts to play tennis to Princess Charlotte's love of dance and William being in denial about baby number three, here's a look at the Duke and Duchess's family life in quotes.
The third baby
"We need Catherine to get over this first bit and then we can start celebrating. It's always a bit anxious to start with, but she's well. There's not much sleep going on at the moment" - William shortly after Kate's third pregnancy was announced.
"William's in denial" - Kate about the Duke's reaction to having a third baby.
"The baby's due any minute" - William to former Beatle Ringo Starr at an investiture.
"Ginger biscuits - but there's not much ginger can do to stop that - we've done all that" - William on how Kate had tried using ginger to stop her severe morning sickness.
On George
"It went well. There was one other parent who had more of an issue with their children - so I was quite pleased I wasn't the one" - William on George's first day at school
"George rules the roost and Charlotte isn't far behind" - William after George began full-time education.
"As a mother, just getting used to leaving my own child at the school gates, it is clear to me that it takes a whole community to help raise a child" - Kate at a mental health conference.
"He only wants to whack the ball" - Kate on trying to teach George to play tennis.
"Don't show that to George; we'll never get any peace" - William on being given a selection of brass whistles in Birmingham.
On Charlotte
"I think she's going to be trouble when she's older. All fathers say that" - William.
"My daughter Charlotte loves dancing" - The Duke at a Commonwealth reception.
"She likes sparkly things" - William.
On parenting and childhood
"Personally, becoming a mother has been such a rewarding and wonderful experience" - Kate at the Royal College of Obstetricians and Gynaecologists in London.
"There is no rule book, no right or wrong - you just have to make it up and do the very best you can to care for your family. For many mothers, myself included, this can, at times lead to lack of confidence and feelings of ignorance" - Kate also at the Royal College of Obstetricians and Gynaecologists.
"She was saying William was sort of similar and I just wanted to let her know how Family Action have been there for me" - Single father Billy revealed how the Duchess told him William initially found it difficult adjusting to parenthood.
"I've got such fond memories of being in the garden and being outside from my own childhood, and I'm sharing that with my own children, George and Charlotte, at the moment" - Kate.
"Childhood is an incredibly important moment in our lives... Our experience of the world at this early stage helps to shape who we become as adults and how we begin to feel comfortable in our own skin" - The Duchess in a video marking Children's Mental Health Week.
"I know he's a bit of a motorcycle fan himself. We talked about his bikes and the fact that he has put it on the back-burner a little bit because of his children now" - World Superbike champion Jonathan Rea on William's love of bikes.
"One lesson that we will take home with us is that children are actively encouraged to spend time outdoors, whatever the weather" - The Duke pledging to adopt the the Swedish way of life after their Scandinavian tour.
"You can't help but reflect on your own life and it's definitely had an impact on how sort of I look at how I mother, how we work as a family and you know, how we hope to bring up our children" - Kate on how her parenting skills have been influenced by her charity work.
"Particularly as a mother, there's an expectation to be super-happy all the time and one in four of us aren't" - The Duchess visiting an NHS mother and baby unit in London.