8 Life Lessons to Learn from Nigella Lawson
She's the indomitable doyenne of the kitchen, famed as much for her propensity for verbosity as she is for her culinary prowess.
Nigella Lawson is the sage-like self-styled Domestic Goddess and we can all learn a thing or two from her, so we've compiled our favourite Nigellaisms to live by.
1. "I never taste the wine first in restaurants, I just ask the waiter to pour."
Nigella is a lady after our own heart, with absolutely no delusions of grandeur. As long as the Pinot is ice-cold and flowing, we're happy and if it's good enough for Nigella...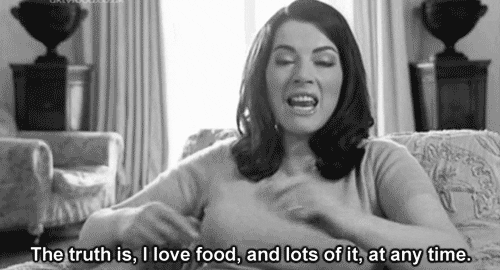 2. She mastered sass from a very young age
When Nigella was a mere 11-years-old, she raised her hand in class during a maths test to tell her teacher, "I'm sorry, I don't do this." Yet Nigella's pre-teen sassiness didn't stop her from gaining entry into Oxford University some years later.
3. She really is a modern day philosopher
During an interview with Michael McIntyre, Lawson was asked about how she deals with the constant media scrutiny and she answered with this gem, saying: "If the major thing in your life is what people who don't know you think, then you're living your life wrong." Words to live by!
4. She doesn't believe in 'guilty' pleasures
In the Gospel According to Nigella, the traditional equation of pleasure and guilt is inverted and in fact, entirely disembodied. She once said, "It's our duty to accept pleasure. It's not an indulgence, it's an acceptance of being alive and the only thing I can imagine feeling guilty about is not taking pleasure."
5. She is an icon of body acceptance
Nigella has long-been hailed a style icon famed for her hourglass shape, but the food writer has often spoken out about her favouring of food over fashion. In a society that champions super skinny, Nigella is a breath of fresh air and has said that she'd rather feel happy and fulfilled than be miserable and diet. In an interview with Ryan Tubridy on The Late Late Show, Lawson said she doesn't crave treats such as crisps or chocolate, because she doesn't spend her life denying herself them.
6. She isn't afraid to poke fun at herself
Nigella is incredibly self-aware and we love her all the more for her propensity to play up to the coquettish temptress figure the media have projected onto her. Exhibit A: The time she posed in this cheekily captioned tee!
7. Her food descriptions give us life
Before Nigella, melted chocolate and butter was not a "mesmeric ravishing pool" and pasta carbonara wasn't "beautiful, pale and heavenly." Of course, Nigella's sensual and oftentimes evocative descriptions of food have become her celebrated trademark and as she talks about the "hint of inner thigh wibble" in a cheesecake, the TV host and food writer offers us all a lesson on the subtle sexuality of gastronomy.
8. And finally, remember that when the going gets tough, the tough get fierce and fabulous
When Nigella walked into  court on December 06, 2013, she sent the Internet into meltdown as she emerged from her car with her head held high, dressed head-to-toe in black and walked into court as if she were closing for Vivienne Westwood at London Fashion Week. The image of Lawson proudly and fiercely strutting across the pavement sparked a media frenzy and the moment will go down in pop culture history. But as always, Nigella presented us with an invaluable life lesson – in times of strife, get up, dress up, show up and put on the performance of your life!
Online Editors
Follow @Indo_Style_
Promoted Links