Actress Leah Remini to write tell-all book after defecting Scientology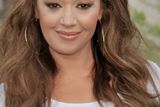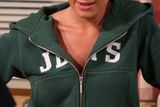 The tv star is working on a memoir covering "all that is taboo" about the religion
The lid is about to be lifted once again on the controversial Church of Scientology. Actress Leah Remini, who defected the religion earlier this month, is set to write a tell-all book on her experience as a worshipper at the church in the last 37 years.
Remini is now 'disconnected' from existing members of the church including Will Smith and Tom Cruise, much like fellow famous defectors Nicole Kidman and Katie Holmes and all others who have left the religion.
"It will include my experiences, everything that's taboo to talk about," Leah told Us Weekly. It is believed that she decided to leave after she was allegedly punished for questioning leader David Miscavige, and for being critical of other Scientologists.
Since her decision, she has come under fire by current worshipper Kirstie Alley, who posted a series of bizarre tweets reportedly directed at the former King of Queens star, a former friend.
"We stand united, my family and I, and I think that says a lot about who we are, and what we're about," Remini explained on her decision to leave the church, which she joined, along with her mother, when they first moved to Los Angeles.
"i believe that people should be able to question things," she explained.
Remini is not the only Hollywood heavyweight to experience the wrath of the church. Director Paul Haggis, also a former Scientologist, penned an open letter to The Hollywood Reporter praising her decision to leave.
"What I knew about Leah is that she was one of two Scientologists who had refused to 'disconnect' from me and certainly the only high-profile one when I decided to quit the organization in August 2009," he began. "Leah and I were always friendly but never close friends.
"Despite this, she called me as soon as she heard about my letter of resignation. Unlike the rest of my former friends, she expressed real sadness that I was leaving and concern for me and my family."
"Having witnessed Scientology's smear tactics, I can imagine how this was being orchestrated, but I was still shocked to see how quickly those friends -- some of whom had known Leah for 20 or 30 years -- jumped on the 'malign Leah' campaign, and with such apparent glee," he added.
"I assumed Scientology's next step would be to try and plant disparaging stories about her with less-informed journalists and bloggers.
"And if others who have made noisy exits from the church are to be believed, Scientology would also use their Office of Special Affairs employees to attack Leah indirectly, posting negative comments about her shows and career and abilities under myriad false names, pretending to be disappointed fans or whatever. None of that is new."