The real reason there's still no cure for PMS is pretty depressing
The real reason why there's no cure for PMS is pretty depressing.
Premenstrual syndrome (PMS) is a very real and serious problem for the many women who suffer through it on a monthly basis.
You've probably woken up with period pain so horrendous that you've had to pull a 'sickie' from work, blaming it on possible food poisoning from last night's Chinese. Some women are even hospitalised with debilitating pain that comes with the condition.
So you'd expect that there would have been some sort of cure or effective treatment by now but unfortunately not the case.
And that's because science doesn't seem to think it's a serious enough issue.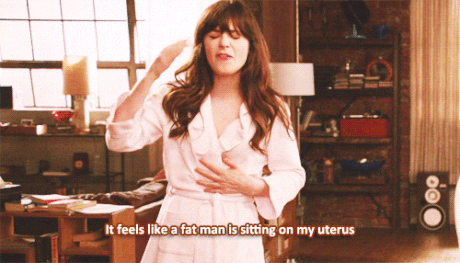 According to ResearchGate, five times more studies are commissioned on erectile dysfunction than PMS.
Now we're not belittling the devastating effects erectile dysfunction can have on a man's mental and physical wellbeing but we need to put this into context: Only 19 percent of men suffer with erectile dysfunction compared to 90 percent of women who suffer from PMS.
Of these women, 40 percent do not respond to any form of treatment available for their symptoms, while up to eight percent suffer from "premenstrual dysphoric disorder" - a condition so unmanageable that up to 15 percent of victims have attempted suicide.
However, scientists can't seem to agree on what's classed as PMS. Currently there are over 150 symptoms attributed to the condition from bloating to cramps, tender breasts, forgetfulness and swollen feet.
As a result, most women aren't sure what symptoms are linked to their period so many go undiagnosed. Mood swings, crying, feelings of aggression and anxiety are sometimes mistaken for bipolar disorder when they are, in fact, caused by PMS.
And these are symptoms that women have to put up with every single month.
University of Washington psychologist Kathleen Lustyk told ResearchGate that applications for research funding had been refused on the grounds that PMS was "merely a product of our society or culture that has painted a natural process in a negative light and that, given its monthly predictability, leads to suffering through anticipation".
Which basically means they think it's all in our heads... *sigh*.
PMS is not imaginary, it's physical and mental symptoms of a physical and mental condition.
Women joke about their PMS to make light of an uncomfortable and painful situation, but they constitute a large and eager market for cures and treatment.
As a society, it seems that men's health issues are taken more seriously than women's. Not only is this a bad way to treat women, it's bad science too.
Online Editors
Follow @Indo_Style_
Promoted Links