Five ways running can improve your mental health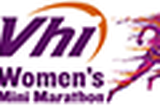 "When you look well, feel well and think well, you will be well!" says Vhi's Dr May, GP and Clinical Strategist.
The 'exercise effect' and physical benefits of running are well documented, but the mental health benefits can be completely transformative and lead to a whole new outlook and change in lifestyle.
Here are five ways that running can improve your mental health:
1. A natural boost!
There are many physical and mental benefits that come with increased moderate exercise, including running, and these include stress reduction. "The boost in serotonin levels in your brain that running brings results in considerable stress reduction", points out Dr. May.
Encouraging women to think about joining this year's Vhi Women's Mini Marathon, Dr. May points out: "The Vhi Women's Mini Marathon is one of the world's biggest all-female events and is a really exciting, unique event to take part in. Each year, thousands of women decide to participate and set themselves the goal of either walking, jogging or running the 10k route."
2. Extra energy and creativity
"The increased energy levels that come from the increased blood flow prevent lethargy" says Dr. May. Research has shown that people who take time for exercise regularly have more energy and are more productive than those who are sedentary. Exercising can also boost your creativity for up to two hours afterwards. Partnering up with a running buddy can help to inspire others and add to the positive effects. Running together is truly better!
3. The 'feel-good' factor
TV presenter, model and health advocate, Amanda Byram is now part of Vhi's support team as an event ambassador for the 2017 event. "The feel-good factor after a run is incredible. I used to run a lot on the beaches in Los Angeles but had to stop because of injury. I am now back again and working towards my first 10k in this year's event and the training has given me a huge boost."
"It's well known that there can be a 'runners high' which is the rush of endorphins that you will get from exercising. Running also boosts sleep quality, concentration and your general mood during the day. It is true what they say that running is definitely medicine. All the scientific evidence is there", says Amanda.
4. Alleviating anxiety
From stress relief, to a boost in self-esteem and positive self-image to alleviating anxiety and increasing relaxation, Vhi's Dr May, GP and Clinical Strategist strongly advocates the mental health benefits of running.
In addition to the obvious physical benefits, regular exercise and staying active can help to reduce stress. Put simply, when your body feels better so can your mind. Participation in aerobic exercise has been shown to lower overall levels of tension, improve mood and sleep and even improve self-esteem. Even just five minutes of aerobic exercise can start to show anti-anxiety effects.
5. Better brain power!
We can all benefit from better brain power and it has been proven that cardiovascular exercise can improve overall brain performance by creating new brain cells. Running can also help with memory and the ability to learn new things as it increases the production of cells in the hippocampus, which is the area of the brain responsible for learning and memory.
Another hugely important advantage of running is that combined with a healthy diet, it can help to protect the brain against cognitive decline that can come with age. Running is, quite simply, a no-brainer!
There is still plenty of time to train, whether you decide to walk or run. For motivation, the Vhi Support Team offers advice with training plans, motivation tips and all-important nutrition.
Due to demand, closing date for entries to the 2017 Vhi Women's Mini Marathon is now extended to Friday May 12th 2017.  Sign up today by registering online here.
For further information on the 2017 Vhi Women's Mini Marathon visit vhiwomensminimarathon.ie/ or follow on Facebook and Twitter.
Sponsored by: