'There's nothing we can do about demographics' – IRFU chief Kevin Potts believes provincial funding done in an 'equitable manner'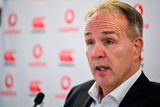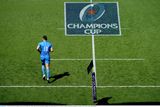 Kevin Potts has been fielding questions about the state of the union he's run for 18 months for almost an hour when we reach the closing arguments stage of the interview.
We have spoken at length about the women's game, discussed the balance between the four provinces, governance, concussion and the arrival of private equity in the sport. To tie a bow on it all, we wonder what gives the IRFU chief cause for optimism – and pause for thought.
"I've always been optimistic about rugby," Potts says, citing the health of the men's game and his experience of the club scene. "There's a real sense of positivity around Irish rugby right now. There are challenges. Getting our women's game right, which we are committed to ... I think there's massive momentum behind our sport, huge interest.
"Risks? The ability for our international game to continue to generate the funds we need to invest in our game, ongoing financial sustainability in terms of general inflation, controlling our cost base. The ongoing ability to insure our game and ensuring that we live within our means.
​"The reputation of the game, in terms of the concussion discussion and ensuring that our participants, their parents and the wider stakeholder group have confidence that we are continuing to do all we can to ensure that our game is as safe as it can be while retaining the shape of the game we all love. God forbid, we could have another pandemic ... I think they'd be the big ones."
Potts says he is living his dream.
He played at a high level for St Mary's and Leinster and describes himself as a 'club person'. He's been employed by the union for nearly two decades since joining as domestic game manager in 2005 and took over from Philip Brown on January 1 last year after a stint as COO.
The Covid-19 pandemic put professional rugby under huge pressure, and while Ireland has emerged strongly from the lockdown years, its neighbours have struggled.
Wales' Six Nations was dogged by money problems, while England has lost two pro clubs this season. While they are rivals on the pitch, the struggles of competition partners is a concern for the union.
"Our colleagues in Wales and England are working really hard to address the issues they have in terms of their professional game structures. There's a strong will there. I'm confident they will resolve them," Potts says.
The URC must stabilise over the next five seasons, he believes, but he wants to see changes to the format of the Champions Cup.
"EPCR is so important to Irish Rugby and the provinces. Getting its structure right is critical," he adds, stating that he is involved in a consultation process with EPCR to update the structures from 2024/'25.
"It's no secret what Irish rugby wants – nine weekends, those three home games which are hugely important to the financial models of the provinces. We need that tournament to settle and to get back to the heights it was at."
Leinster are flying the flag for Ireland in the Champions Cup, but their run this season has been soundtracked by the sound of complaints about their demographic and financial advantages.
"Concern is the wrong word," he says. "There's nothing we can do about demographics. When I was playing, Ulster were the dominant team. Ten-15 years ago, Munster were the dominant team, and now Leinster are the flagship.
"What we want are four provincial teams competing in Europe and the URC, ideally all of them getting to the knockout stages.
"We actually fund the provinces in a pretty equitable manner.
"Leinster are fuelling the success of our international team. We will continue to support all four provinces and do all we can to ensure that they are all in a position to compete … but we can't change the demographics of the island."
Despite equitable funding, Leinster's success is perpetuated by the number of centrally contracted players on their books. While the central contract model 'is not up for grabs', Potts revealed that the union is doing an independent review of its financial model this year.
"How the whole model works is going to have a review and it'll be interesting to see what comes out of it. The concerns or challenges each province may have with the current model, they'll have an opportunity to input those," he explains.
"It has served us well, but we're No 1 in the world men's team, so now is the time when we're successful to actually take a fresh look at it. Who knows how it will go."
Covid exposed rugby's reliance on the revenues generated by the senior men's international team, which brings in 80pc of the union's income. However, while he believes the quest for new revenue streams is ongoing, he says a change is unlikely during his tenure.
In 2021, private equity firm CVC Capital Partners bought stakes in the Six Nations and the URC. Potts is positive about their influence to date but believes they can do more.
"The unions control the direction of travel and CVC are a minority partner," Potts outlines.
"They're very respectful and have helped to bring a greater business approach to our dealings. They bring an experienced, laser focus on big, strategic, commercial initiatives and opportunities.
"I'd probably, in the future, expect to see them bring more to the table.
"What we want is their ideas and experience, and I think we've got a glimpse of it recently, and I think we will see more of it.
"But it's welcome. We should embrace that. If they make a return on their investment, we're all generating significantly more revenues and those revenues fund our sport."
The introduction of the Netflix cameras behind the scenes during the recent Six Nations is an example of CVC's influence at work, albeit there was plenty of tension in the background.
Potts insists rugby's door is open to new ideas.
"Our players and coaches didn't have to co-operate," he explains.
"They understood that, by doing so, it was helping to potentially generate significantly new eyeballs on our sport. We need to be better prepared in the future and put processes in place, so that when opportunities are coming, it's not kind of a last-minute thing that lands on people's laps, which I think some people felt was the case this time around."
It's all part of the challenge of an ever-changing landscape, one Potts wants Irish rugby to dominate.