'Our Springboks wanted to face Leinster' - Stormers relishing RDS showdown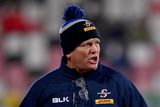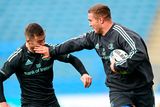 John Dobson gave the Springboks in his Stormers squad a choice.
The side based in Cape Town have two games this weekend. One is in Dublin against Leinster tonight, the other against the Sharks in the Currie Cup on Sunday. The Boks are just back from a two-month break – and Harlequins are coming to face Stormers next weekend in the Champions Cup, with 50,000 expected at the DHL Stadium.
To a man, the URC champions chose a long-haul flight to Ireland to test themselves against their main rivals for the title.
"That surprised me," the league-winning coach conceded.
"These guys have been off for two months, Harlequins is our main game in terms of performance. "I said, 'Would you rather go and get ready in Durban? I'll stay behind with you, we'll train in Cape Town and then go and play and be ready for Harlequins'.
"They said, 'No, no, we want to come to Leinster'. It's quite a statement. So we had Steven Kitshoff (123kg) and Frans Malherbe (130kg) in economy class, via Doha. They could have taken a way out.
"Every one of them; Kitsoff, Malherbe, Deon Fourie, Marvin Orie, Damian Willemse; all said they wanted to come."
Dobson and his team want to retain their URC crown – and they know that the likelihood is that they'll need to win a final in Dublin to do so.
Leinster are 12 points clear of them with three games to go – and with their Grand Slammers absent they're likely to take a shadow squad to South Africa for the last two games, but Leo Cullen's men should have enough to top the ladder.
This one doesn't just have ramifications for the URC, however, but there are World Cup connotations involved.
The Springboks have been watching Ireland's progress closely ahead of the two teams' meeting in the pool stages in France in September. "It's one of those things like when you're engaged and your wedding seems a long way away and you put it off, you don't have to worry about it," Dobson said.
"Now, I think it's a big reality in South African rugby. Early on, it was quite relaxed, because in our minds it was always Ireland. You know the cliches about World Cups – physically, they'll struggle against the big teams.
"But now I think there's a fair amount of concern in South African rugby that Ireland have evolved quite a bit, both physically and technically.
"It's looming as a big thing on the South African agenda.
"But, having said that, losing to Ireland isn't the end of the world, because you've got France or New Zealand in the quarter anyway. You've just got to make sure you don't lose two games," Dobson continued.
"The Irish, to our minds, is a contrasting style of rugby. The Stormers are not the Springboks, but we compete at set-piece – and when we score tries it tends to be one or two phases; counter-attack, a strike, a maul. ​
"That's completely the opposite of the Irish who are so organised. I know they're a bit looser now, in a nice way, Mike Catt has broken the shackles a bit, given them options. But, it's two different philosophies."
That will be at play at the RDS this evening. "We're trying to shut it down, absorb, absorb, strike. These guys are coming at you all the time.
"It's really going to be the Irish breakdown, two guys over the ball collapsing, stuff like that; whereas we need to make that a three, four-second ruck. .
"The referee comes in then, how much is legal? We'd be a bit braver than the Springboks, but it will be a similar challenge. Can line-speed slow down their attack? Can we slow down their ball to allow us to get the line-speed? Like the Springboks, we want double tackles.
"The Bulls did it last year. It's how we contest everything, there's no team in the world that would have gone up on their five-metre line, like the Bulls did, but they did it and won.
"There'll be a lot of interest in the Irish-South African (URC) games."
Dobson is determined to make a mark this evening against a Leinster side with Ciarán Frawley at inside centre, Jordan Larmour at full-back and Harry Byrne at out-half.
"We have to put down a flag," he said. "In my presentation today, I showed the players a picture of the American Marines (in Iwo Jima during World War II) but I changed the flag to a Stormers flag.
"We have to win against a good opposition in the northern hemisphere to be what we want to be. We've messed it up in Ulster, but we've brought our proper team here now, less one or two.
"We have to make a statement that we can win. We're going to put everything into this one."
Verdict: Leinster
LEINSTER – J Larmour; R Russell, L Turner, C Frawley, D Kearney; H Byrne, L McGrath; M Milne, J McKee, M Ala'alatoa; R Molony, J Jenkins; R Ruddock, S Penny, M Deegan. Reps: L Barron, E Byrne, V Abdaladze, B Deeny, W Connors, N McCarthy, C Tector, B Brownlee.
STORMERS – C Blommetjies; S Hartzenberg, D du Plessis, D Willemse, S Senatla; M Libbok, P de Wet; S Kitshoff (capt), J Dweba, F Malherbe; R van Heerden, M Orie; D Fourie, BJ Dixon, J Dayimani. Reps: JJ Kotze, B Harris, N Fouche, E van Rhyn, W Engelbrecht, M Theunissen, H Jantjies, JL du Plessis.
Ref – S Gove-White (Scotland)
Leinster v Stormers, Live, TG4/Premier Sports, 7.35