Denis Leamy: 'We're very conscious of what we represent, both present and past'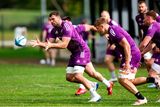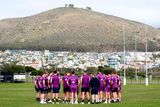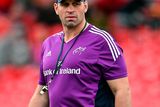 The last time Denis Leamy was preparing for a final with Munster, he found himself on the bench for the Celtic League win over Leinster in 2011. Twelve months later, his career was cruelly ended by a hip injury.
So much water has crossed under the bridge since, it's hard to believe that day in Thomond Park remains the last time Munster lifted a trophy.
Twelve years on, Leamy is back in the Munster set-up, and while he now finds himself at the opposite side of the white line, he remains a vital cog.
There have been several aspects behind Munster's improvements this season, but one of the most important has been Graham Rowntree recruiting assistant coaches who have a deep understanding of what it means to play for the province.
The connection between the team and the supporters is thriving again, even if Leamy was keen to point out that the URC's estimation of 5,000 Munster fans being at the DHL for Saturday's final against the Stormers was wide of the mark.
Nevertheless, a strong contingent of the Munster faithful have made the long and expensive trip to Cape Town, something that is not lost on Leamy and the squad.
​"I'm being told it's more like 2,000 Munster fans, which is fantastic," Leamy said. "It's incredible we have that much travelling support from all over the world. We talk about it all the time, it's fantastic we will have that number of fans there.
"You want to give people who have travelled out a performance. Obviously, we want to perform for ourselves and everyone back home. The diaspora means an awful lot to us. We're very conscious of what we represent, both present and past."
While it will require something special for Munster to beat the defending champions in their own backyard, Rowntree's side are buoyant on the back of their end-of-season form, which included that epic semi-final win over Leinster.
There have been wobbles along the way, but Leamy's robust defence has caught the eye on several occasions, not least against Leinster.
"It goes without saying that it gives us a lot of depth," Leamy declared with regard to the boost the 16-15 win over their arch-rivals has given a squad that is almost at full strength.
"It gives us a really hard decision to make in the next few days over who are the best 23 to represent Munster on Saturday. That is a great challenge to have as at times over the season, it felt like we were down to bare bones.
"To have the quality we have on offer now is excellent and, yes, there are tough decisions to be made.
"We are very tight and bonded as a group and no matter what happens, whatever 23 takes to the field, it will be all of us: people back in the offices in Limerick and Cork, everyone involved in Munster rugby."
Handling what is a huge occasion will be vital, but as Leamy alluded to, Munster have been playing with a cup-final mentality the last number of games and come out the right side of results.
Finals rugby is a different beast, however, and with that in mind, the former Ireland back-row has stressed the need for the players, particularly the younger ones, to take everything in their stride.
"It's very important the group around them are good with them," Leamy said. "That's really important, how we message, how we stand in front of the group. We're very lucky having a lot of experience in the room in terms of winning silverware.
"Pete (O'Mahony) and Conor (Murray) have won a lot with Ireland, and you look at the World Cup winners, RG Snyman and Malakai Fekitoa. You even take it back to someone like Graham Rowntree, who has won so much himself as a player. It is important we control that environment a bit and use the experiences of the guys who have played in big finals. Then it's over to the guys.
"We haven't tried to create a different level to different games we play, where we have to go to the well for one game and maybe not for another. We are consistent in our actions and in our messages to put the boys in as good a space as we can."