Why are Arsenal showing no interest as Premier League's big guns chase Jude Bellingham?
Liverpool, Manchester United, Chelsea and Manchester City are ready to splash huge cash on midfielder – but Gunners hold their fire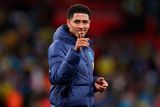 Sam Dean
Telegraph Media Group Limited
The battle lines are being drawn ahead of the transfer window and the future of Jude Bellingham will be one of the dominant themes of the summer.
The race for the England midfielder is expected to be the most eye-catching and expensive of this year's transfer sagas, with many of the world's wealthiest clubs jostling for position.
Will it be Liverpool's long-standing interest, and the promise of building a new era around this prodigious teenager, that wins out?
Will it be the thought of playing for Pep Guardiola, and alongside Erling Haaland, that proves decisive?
Or could it be the allure of Real Madrid, with all the glamour and glory that comes with that white shirt, that sways the hearts and minds of the Bellingham family?
Manchester United are also in the conversation. So are Chelsea. Big clubs want big players – and Bellingham is widely expected to be one of the biggest of them all over the next decade.
As four of England's biggest clubs go head-to-head for Bellingham, there will be some supporters of other teams who are wondering why they are not entering this race.
For those of an Arsenal persuasion, especially, the thought of Bellingham joining the Mikel Arteta-led revolution must be particularly compelling.
On paper, at least, Bellingham is the precise sort of player that many Arsenal supporters feel this team needs. Thomas Partey is 29, and Granit Xhaka is 30, so a midfield revamp will be required in the medium-term.
Arsenal has become a place where young talent goes to thrive – look at Bukayo Saka, Gabriel Martinelli, Martin Odegaard and William Saliba – and the hope is that this season's title challenge is just the start of their journey under Arteta.
With Champions League football all but secured for next season, Arsenal have considerable financial firepower, too.
And yet there is currently no suggestion, from club sources or those in Europe, that Arsenal are willing to join the scramble for Bellingham's signature.
Only a fool would say definitively that something is not going to happen in the wild world of the transfer market, but it is regarded as highly unlikely that Arsenal will join Bellingham's list of suitors.
Given Arsenal's growth over the past 12 months, and their potential as a team, some supporters might ask why that is.
There are a couple of reasons, the most significant of which is the most simple: the price.
The feeling in the industry is that the buying club who lands Bellingham will be lucky to sign him for less than €110 million.
And that is before one considers the cost of his wages.
Such a move would not just beat Arsenal's transfer record. It would obliterate it. The most Arsenal have ever spent on a player is the €79m they erroneously invested in Nicolas Pepe, in the summer of 2019.
Since Arteta was appointed a few months later, the most they have spent on one player is €58m, when they signed Ben White from Brighton.
Arsenal were willing to break their transfer record to sign Mykhailo Mudryk in January, but their final offer was still way short of €110m and the wage package prepared for the Ukrainian was far lower than what Bellingham will be expecting.
It should also be kept in mind that Arsenal's plan is to ultimately return to a self-sustainable financial model.
To invest all that money in one player would also hurt Arsenal's chances of strengthening across the squad.
It is clear that they need to sign another forward, as competition for Saka, and there are also issues at full-back. If Kieran Tierney leaves this summer, for example, Arsenal will need to sign a replacement.
There is, of course, another English midfielder who is expected to be on the market at the end of this season: Declan Rice.
The West Ham United captain is Arsenal's top target and, at this stage of the campaign, the Emirates Stadium is regarded as the most likely destination for the 24-year-old.
Depending on the negotiations with West Ham over Rice, and indeed the fee that Borussia Dortmund demand for Bellingham, it is feasible to suggest that Arsenal could sign two high-class players for the price of one Bellingham.
Their rebuild under Arteta has been built on shrewd, cost-effective signings. The combined fees for Gabriel Jesus and Oleksandr Zinchenko was roughly the same as what they paid for Pepe a few years earlier.
And there is no reason for this policy to change in the coming months.